Maryland Sheep and Wool Festival seems to have snuck up on me this year. While I don't have a stashing plan in mind (which probably means I'll do more damage than I planned), I'm looking forward to spending time with beloved fiber friends and meeting some of my favorite indie business owners.
To help you plan, here's a roundup of the Indie Untangled vendors at both the pop-up at The Knot House and the Howard County Fairgrounds, and a peek at just some of the goodies they'll be bringing.
THE KNOT HOUSE INDIE POP-UP
This is the fifth annual indie pop-up that Cathy and Heather of The Knot House are throwing. In the spirit of the Indie Untangled Rhinebeck Trunk Show, it brings together a collection of dyers and makers from around North America. Unlike the IU Rhinebeck show, it runs all weekend, with a preview party on Friday night from 5 to 9 p.m.
Dragon Hoard Yarn is a one woman show run by Trysten out of Utah. Her style is inspired by pop culture, geeky fandoms, and witchy themes.
I'll be bringing the entire Outlander collection, including:
Lallybroch (green), Red Jamie (Orange), Clan Fraser (blue), and Je Suis Prest. (Blue and brown). I'll also be giving a sneak peek at a new design coming out in July! The Moondrip Summer Tee will be showcased, and I will be there to help people create kits!
The Farmer's Daughter Fibers specializes in hand-dyed yarns inspired by dyer Candice's cultural heritage and Montana roots.
Aimee & Brian are the dyers of Little Fox Yarn, based just outside of Richmond, Virginia. Their subtle, wearable colorways are inspired by the Blue Ridge Mountains where Aimee grew up.
We will be at the Knot House Indie Dyer Pop Up this weekend. We will have all of our usual lineup of tonal yarns including our new Vixen Lace base.
Also at The Knot House will be ShelliCan and Nice & Knit.
THE FESTIVAL
See the festival map here.
Main Exhibition Hall, Booth C28
Bare Naked Wools offers natural, dye-free, artisanal yarns in single breed and wool blends, wool and alpaca blends, and unique luxury blends.
• The hat is the "Happy Dog Cap" which we will be selling at MDSW as a kit with Betty King Natural Dyes Merino DK.
• The pullover sweater is "Multigrain"
• The lace shawl is "Harrier"
• The yarn is Better Breakfast DK, a luxury alpaca blend
Outside North, Booth N1
Bijou Basin Ranch provides sustainably harvested, high quality exotic yarns & fibers dyed by various indie dyers across the country. After 15 years of merchandising yarn, BBR will be closing its doors by the end of the year, so don't miss your chance to see, feel and purchase at our last MDS&W Festival!
Pictured clockwise from the top left are:
Solids by MJ Yarns on Xanadu, 100% Mongolian Cashmere
The Valkyries Series by MJ Yarns on Gobi, 35/65 baby camel/Mulberry silk
The Mariposa Series by Colorful Eclectic on Himalayan Summit, 50/50 yak/Merino — brand new at the show!
Various colors by ModeKnit Yarns on Tibetan Dream, 85/15 yak/nylon
Outside Lower Corral, Booth LC9  
Dragonfly Fibers has been dyeing high-quality yarn and fiber in suburban Washington, DC, for more than ten years. We're known for our vivid and saturated tonal and variegated colorways, and we have gorgeous neutrals, too! Come see all that's new and beautiful in the Lower Outside Corral!
Our brand-new tote bag is free to the first 25 customers both days and all purchases over $125. Available for purchase for $12.
Our newest yarn, Faerie, an ethereal mohair-silk blend, is perfect for warm-weather knitting. The Jocelyn colorway (shown in Pixie, also in Jocelyn) makes for a beautiful spring Elton, by Joji Locatelli.
Our show exclusive colorway, Carroll Creek Park's bright and happy colors make it perfect for spring! It will be available on multiple bases. Supplies are limited, so be sure to stop by early in the morning for the best selection.
We will also have three great kits for the brand-new Casapinka design, Magical Thinking, which made its debut last Saturday during LYS Day.
Barn 5, Booth 14
We specialize in British and U.S. rare and heritage breed sheep. We gain our inspiration from the sheep themselves and the beautiful countryside. For those participating in the Shave Em to Save Em and the 52 weeks of sheep programs we will have both natural spinning fibers and yarns produced from the sheep here at the farm.
Main Exhibition Hall, Booth B13
Knittyandcolor specializes in eye popping bright, unique pastel, and fun speckled yarn and fiber. Her husband, Subterranean Woodworks specializes in finely crafted, exotic wood and hand dyed Turkish spindles.
Outside Lower Corral, Booth LC18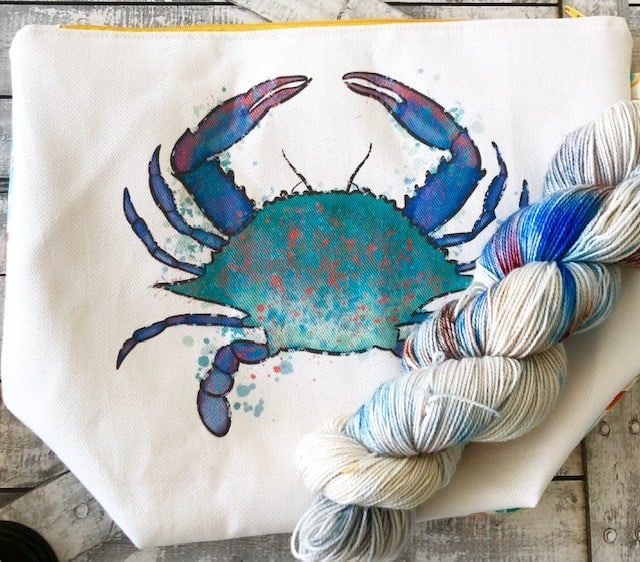 Created by sisters, Helen and Mary Beth, Toad Hollow makes project bags and hand dyed yarn. Our products all have a whimsical sense usually based on books and fandoms we love. Limited quantities of our Maryland 2019 color, "Crab Pickin," will be available this weekend.
Main Exhibition Hall, Booth B2
Wolle's Yarn Creations will be at MDSW for the third year and we are bringing our amazingly soft and deluxe Cotton/Silk yarns as well as our new Cotton/Bamboo yarns. Also, new this year: DK Cotton yarns, perfect for all your summer tops. Stop by and touch our yarns — feeling is believing.
Also at the festival will be:
Backyard Fiberworks, Main Exhibition Hall, Booth C4 
Crafty Flutterby Creations, Barn 3, Booth 5
Into the Whirled, Main Exhibition Hall, Booth B16
Middle Brook Fiberworks, Main Exhibition Hall, Both B26
A while back, I learned via Facebook that my friend Brian had created a new music venue in Brooklyn called Murmrr, a few miles away from my apartment, in a space he and his business partners leased from the Union Temple of Brooklyn. As long as I'd known him, Brian had been in a band, and one of my first train rides from Long Island into New York City sans parents was to see him and some of our other high school classmates perform as Pesantes at a long-shuttered club in the East Village (their cover of Guided By Voices' As We Go Up, We Go Down was a favorite of mine). At Murmrr, he arranged for musicians such as Bjork and Nick Cave to perform at the space, also hosting live podcasts, comedy shows and author talks.
I had already been thinking about doing some Indie Untangled events in the city, but I wanted something that was different from the usual marketplace — especially since I already do plenty of shopping at one of the four Brooklyn yarn shops. After seeing a couple of shows at the new space, I knew we could put together something cool. And Murmrr would be a fitting venue, since so many knitwear designers seem like they're rock stars.
It was with that in mind that I contacted Andrea Mowry and Kristy Glass last year about the idea for what would become Andrea Untangled. Kristy would interview Andrea in what was essentially a live version of her popular podcast, and afterward there would be a small marketplace with exclusive colorways available for some of Andrea's designs.
In early January — eerily, a couple of weeks before tickets to Andrea Untangled were set to go on sale — writer Edith Zimmerman wrote a love letter to Andrea in The Cut, calling her "the knitting world's Taylor Swift. Cute, talented, driven, precise, upbeat, and kind, with a wink and a flicker of darkness.
"This all feels a little like putting up pictures of her in my school locker, although that is kind of how I feel," Edith wrote. "I love her!"
Kristy then had the brilliant idea to invite Edith on stage to begin the show, interviewing her before letting her meet her idol onstage. As she wrote to me proposing the opening act: "It's like the ultimate fan girl moment — kind of like Kim MacAfee in Bye Bye Birdie representing all the girls in America."
Even though I'm part of the industry, I have to admit that I was still a bit starstruck when it came to really meeting Andrea, not just in passing at Edinburgh or Rhinebeck. While I was not at all nervous about the show itself — I knew that Kristy was a pro, and I felt that if I could execute an event as large as the Rhinebeck Trunk Show, this would be a piece of cake — I did feel first-date jitters as I went out to meet Andrea for lunch Friday afternoon before her first appearance of the weekend at Knitty City.
I agonized over what to wear, settling on a black, lacy dress from WISP (a StitchFix find), which I paired with gray tights and a sample of Andrea's Golden Hour shawl that Paola of mYak had leant me. I couldn't believe that my job included sharing plates of pierogi and knitting with one of the knitting world's It girls.
As the weekend went on, I discovered that Andrea was also awed by the fact that this was her job. That people loved her designs so much, they would wear her shawls and cardigans to meet her in unseasonably warm weather, travel to take her brioche class, or write a gushing article about her for New York magazine.
In her answers to Kristy's questions onstage at the main event, Andrea came across as the kind of person that we could all relate to. After Kristy asked Andrea what her favorite food was, my friend Shameka said she whispered to her seat neighbor that hers was curried mango. Andrea replied that she loved mangoes and tofu, which Kristy then suggested would taste great in a curry. Later, when Kristy asked Andrea "What's your favorite boy band?" and she answered, "The Smiths," somewhere 17-year-old Lisa was incredibly impressed.
On Sunday, Andrea came to one of my local yarn shops, String Thing Studio, for the last event of her whirlwind weekend, which also included workshops and appearances at Brooklyn General and Argyle Yarn Shop. Her meet and greet turned into an afternoon hangout, with Andrea passing around her samples, giving knitting advice and answering questions as we sat on the cozy couches and in chairs that had been packed in and around the back of Felicia Eve's tiny shop in Park Slope, not too far from Murmrr. Even as she posed for selfies/photobombs, it didn't seem all that different from any other knit night.
Rock star knitters — they're just like us.
It's that time of year again, when Times Square gets overtaken by knitters on a mission, dodging tourists and glaring at the Starbucks line, hoping to make it to their 9 a.m. brioche class on time — or just to the Marketplace to shop for yarn.
The Marketplace at this year's VKL NYC — taking place at the Marriott Marquis in Times Square from January 25-27 — looks to be the busiest it's ever been. To help you prepare, I've put together a guide to the Indie Untangled vendors that you need to visit. Each vendor has introduced themselves and is offering a sneak peek at some of the yarns and products they'll be bringing.
Will you be there this weekend (and on the subway Saturday)?
Fifth Floor, Booths 314 & 316
Asylum Fibers focuses on in-your-face, vibrant tones and one-of-a-kind colorways on over 15 bases, both versatile and luxurious. The brand name was thought up in order to incorporate the playfulness of horror flicks while leveraging the other meaning of the word "asylum," acknowledging that crafting is such a wonderful, meaningful form of therapy and comfort.
Stop by to "embrace your crazy" with a photo shoot and check out some new 2019 colorways. Available will be an event colorway called Sidewalk Reflections, a new base called Brainless Bulky and The Brainless Beanie, a free pattern corresponding with the release of this new base, and a 2019 mini set featuring new colors, including I'm Alive, inspired by the Pantone color of the year.
Fifth Floor, Booth 321
I dye everything out of my home's basement in New Jersey and I'm inspired by all things cute and pink.
I'll be bringing more than 20 new colorways, some of which are one-of-a-kinds and will never be repeated again. A ton of new colors are inspired by Sailor Moon, which is a show I religiously watched growing up.
Sixth Floor, Booth 907
Dragonfly Fibers has been dyeing high-quality yarn and fiber in suburban Washington, DC, for more than 10 years. We're known for our vivid and saturated tonal and variegated colorways, and we have gorgeous neutrals, too! Come see all that's new and beautiful in booths 807 and 809!
Pictured above is the Plumpy Shawl by Andrea Mowry. Sample shown in the Starry Night colorway of our Traveller Fade Color Pack (plus one additional skein of Starry Night). Four other fade packs are available — Fade to Back, Reds to Browns, Blues to Browns and Blues.
Nightshift shawl by Andrea Mowry. Sample is shown in one of two kit options of six two-ounce skeins of Traveller: Jocelyn, Mossy Glen, Into the Woods, Hot Pants, Arya, and Limelight The other kit is Cheshire Cat, Airport Hot Sauce, Titania, That Ol' Chestnut, Silver Fox, Velvet Underground.
Garment District, our show exclusive colorway! Shown in Djinni, our fingering weight MCN. It will be available in multiple bases but supplies are limited.
Fifth Floor, Booth 118
Most of my dying revolves around themes. At VKL in NY I will have Disney Men, Disney Villains as well as a few added colorways to series I currently have, plus many new semisolids in fingering/DK and worsted weights.
Pictured are Pittsburgh Steelers, Cast Iron, Hyacinth and Beth.
Fifth Floor, Booth 100
Katrinkles makes buttons, wearable accessories, tools for fiber artists and custom products out of durable wood. Each piece is lovingly designed, carefully crafted and hand-finished in our Providence, RI, studio.
[Editor's note: You can preorder some special VKL items (not the stitch marker pins, unfortunately) to pick up at the show on the Katrinkles website through the end of the day today.]
Fifth Floor, Booth 117
Kim Dyes Yarn is an indie dyer from the beautiful state of Virginia. Kim offers hand-dyed luxury yarn and spinning fibers in unique colorways.
Fifth Floor, Booth 541
Lady Dye Yarns has specialized in hand-dyed, vibrant and saturated yarns since 2010. I believe in promoting a more diverse crafting community through my actions and building collaborations with others.
In addition to tons of new colorways, I will have my limited-edition Fingering Merino Cashmere yarn just for VKL in my Black Panther colorway and in all of my new colorways. Also in my booth will be Alex Creates, Crochet Luna, Fully Spun and Alasdair Post-Quinn, all representing diverse backgrounds culturally, but also in their work.
Fifth Floor, Booth 119
Aimee and Brian are the dyers of Little Fox Yarn, based just outside of Richmond, Virginia. Their beautiful, wearable colorways are inspired by the Blue Ridge Mountains where Aimee grew up.
Fifth Floor, Booths 600-610
Magpie Fibers specializes in hand-dyed luxury yarns, saturated colors and distinctive accessories.
Fifth Floor, Booth 418
MollyGirl Yarn is a rockin' yarn company featuring exclusive yarns inspired by music! Their Vogue lineup includes 2 new yarns, tons of new mini bundles, new enamel pins featuring art from designer Xandy Peters and signups for Volume II of the Spotlight Club!
Sixth Floor, Booth 914
This is mYak: Born in Tibet, Crafted in Italy.
A natural fiber unique in the world.
Born in one of the world's most extreme locations.
Made with Italian artisanal quality.
At VKL we are going to present our line of Baby Yak and Tibetan Cashmere in both kits and single skeins with the beautiful designs created for us by incredibly talented designers.
Fifth Floor, Booth 408
We're Katie and Kara of Nice and Knit — sisters, best friends, knitters and color enthusiasts. We work hard to bring you the very best of what we love, from our creative patterns to our quality hand-dyed yarns. We love working together in our light-filled Connecticut studio, dyeing yarn, shipping orders, and brainstorming our next big idea. Thank you for being a part of our dream!
We'll be featuring an VKL color way called Times Square and custom City Lights bags from Sandy by the Lakeside.
Fifth Floor, Booth 412
One Geek to Craft Them All makes stitch markers, notions pouches, project bags, and jewelry for all crafters. Inspired by music, movies, books, history, and more I bring a nerdy flair to all I make. My designs are to inspire everyone's inner geek.
[Editor's note: Marsha will have exclusive Indie Untangled yarn ball earrings in her booth!]
Sixth Floor, Booth 1015
Ritual Dyes is an independent Dyehouse out of Portland, Oregon, that focuses on wearable, subtle colorways of hand-dyed yarn. We also offer a line of modern project bags including the Knitter's Backpack.
We will be bringing along kits for Caitlin Hunter's Alyeska pattern, kits from our new, sign-specific Zodiac Collection, an exciting version of our popular Knitter's Backpack – the Knitter's Sling Bag (in leather!) as well as our new American Rambouillet line.
Sixth Floor, Booth 1107
Shelli designs enamel pins, apparel, and other accessories for fiber lovers. She'll be releasing an exclusive VKL design (pizza!) on a variety of items along with some collaborations by Tuft Woolens, Havirland, Katrinkles and Bunny & Toot.
Fifth Floor, Booth 116
Wolle's Yarn Creations — the original gradients. Our cotton and cotton/silk yarns are skin-soft luxury, feeling is believing.
Sixth Floor, Booths 711-719
Based in Rochester, N.Y., Yarn Culture brings yarn, inspiration and designers from around the corner and around the world.
Meet Åsa Tricosa and see her beautiful collection of Ziggerats Sweaters.
Participate in a VKL-NYC exclusive preview of Rosy Green Wool's new Manx Merino Fine collection and be the first to see Melanie Berg's newest shawl design, Glückauf.
We've got a gorgeous selection of garments and yarn from Rochester, N.Y.'s own Renee from Spun Right Round, including the exclusive colorway ROC City Blooms.
Fifth Floor, Booth 108
Youghiogheny Yarns, pronounced "yock-i-gainey," is the creation of husband and wife team, Todd & Keri Fosbrink. Color is everywhere in the Youghiogheny River Valley no matter the season, and Youghiogheny Yarns wants to help you bring some of that color into your life and projects.
Pictured above are their colorways Blueberry Lemonade, Coral Cove, Chinese Fireball and a preview of their 2019 show exclusive, I Beg Your Pardon!
Fifth Floor, Booth 421
Zen Yarn Garden's dye studio is based is Ontario, Canada. Our yarn is special. We take pride in providing the most luxurious fibres and dyeing them in a range of beautiful semi-solid, splatter and one-of-a-kind colourways. We know every yarn you buy is destined to have many hours in your stash and on your needles. With each skein we strive to reflect the same passion that you have for your projects and craft in our yarns.
We will have a myriad of colourways available in several bases and will be offering free patterns with yarn purchases. Be sure to check out our Lux Blanx which knit up and express colours in unique ways!
TNNA, or The National Needlearts Assocation's summer trade show, hadn't originally been on my calendar. Though I did have some FOMO with last year's show (at its usual location in Columbus, Ohio, home of the knitter-approved Jeni's ice cream) I heard that a lot of people were skipping the 2018 summer show in Cleveland because of an increase in membership dues. But Bronwyn, AKA the designer Casapinka, convinced me to attend and be her roommate, and my husband had really enjoyed Cleveland when he visited a couple years ago, so I booked my flight and packed some business cards.
Whereas at the show in Washington, DC, I only went on the show floor, this time I got the full TNNA experience, attending the opening night fashion show, where companies showed off the newest designs in their yarns — Acoma, Casapinka's soon-to-be-released sweater, knit with Dream In Color Smooshy With Cashmere, was a highlight and is getting on my needles as soon as it's published — and Sample IT!, an Indie-Untangled-at-Rhinebeck-like shopping frenzy where shop owners buy kits to make samples of the products they plan to carry.
The major buzz around the show was the sharp decrease in attendance, as many shop owners, designers and others in the industry had decided not to pay the higher dues. On the flip side, over the last few years there has been an increase in the number of indie dyers attending the show to build the wholesale side of their businesses, and there were even a few dyers who only sell wholesale. It created an interesting dynamic and a lot of the shop owners I spoke with were excited to find unique products that they could introduce to their customers.
One of my favorite discoveries was Emma's Yarn, which has a great background story: it's run by 16-year-old dyer Emma Galati and her older sister, Aspen, who just graduated college (their parents own the Four Purls Yarn Shop in Winter Haven, Florida) and the business is part of Emma's home schooling curriculum. Emma and Aspen currently only sell wholesale to yarn shops, or do trunk shows and events, so if you like what you see you might want to ask your LYS to look into hosting them.
I was also excited to see Cashmere People, a company I'd first discovered at a Brooklyn General trunk show during the Brooklyn yarn crawl. The company, which has a U.S. rep in Portland, Maine, works with a collective of women in Tajikistan and Afghanistan who hand spin and hand dye Cashgora and Cashmere yarns. Mainer Bristol Ivy recently designed her Shape of a Bay shawl with their Cashgora Fingering and there were also kits at Sample IT! for Carrie Bostick Hoge's Flora Cowl.
mYak, which also has a similar fair trade ethos, sourcing yak fiber and Cashmere from a Tibetan cooperative of nomadic herders, was also at the show and a lot of yarn shops were excited about their designs from Justyna Lorkowska and Michele Wang.
Among the other indies, Twisted Owl Fiber Studio was showing off new Batman colorways. I also was excited to discover Round Mountain Fibers. The Vermont-based company's nature-inspired colors are pretty much available only at yarn shops, but they do have an online store that offers seconds at 50% off the retail price (you may also see a Knitting Our National Parks colorway from them in the near future…).
Of course, what would a knitting event be without some sort of offshoot indie event? Jeanne of Destination Yarn came through with an open house at her gorgeous Cleveland studio.
There were TNNA attendees and non-industry knitters browsing the shelves of colorways inspired by travel, with clever base names like Postcard, Letter and Souvenir.
Overall, it was a productive trip, and you should see the ideas that were generated from it in the coming months…
I usually like to go to fiber festivals with some sort of plan. At this year's Maryland Sheep & Wool Festival, while I had a few things that I know I wanted to snag, like Anne of Middle Brook Fiberworks' Vintage No. 4 (a blend of Shetland, fine wool, silk and a bit of ramie — the next best thing to cuddling her sheep!), I let myself get swept away in it all. Some of my purchases were guided a bit by Instagram:
Some of them were impulse buys, like the not-pictured Jill Draper Kingston, which I guess technically wasn't an impulse buy since the color I wanted was sold out and I ended up buying it on Etsy Tuesday.
Aside from stashing, I also had fun taking everything in and spending time with my fiber friends.
The Knot House
The weekend started as it usually does at The Knot House indie pop-up. Well, it started with an amazing dinner at Black Hog BBQ a few blocks away. Then, after making sure my hands were completely clean of sauce, I petted the yarn.
The Friday night kickoff party was a much calmer affair than last year thanks to the early bird shopping that I couldn't make it in time for. It was a nice atmosphere for chatting and snapping photos.
The festival
Weather wise, this was probably the best Maryland to date. The temperatures were perfect T-shirt and shawl weather, whereas previous festivals were either "I really regret wearing any handknits" or "What is this, Rhinebeck?"
After snagging my Vintage No. 4 (which may become a Charlie's Cardigan), I visited the Into the Whirled booth to see the Bruce Canyon-inspired Hoodoos in person and admired the rest of Cris and James's new speckles.
I've always thought of the Maryland Sheep and Wool Festival as the more low-key fiber festival. Aside from the fact that I'm not organizing a massive Friday trunk show (I leave that to Cathy and Heather, the owners of The Knot House), there's no "Maryland sweater" to knit because it's usually not sweater weather, last year being the exception.
However, as I've been putting together the shopping guide for the weekend, I've realized that the stashing temptation is anything but low key.
Here's a roundup of the Indie Untangled vendors at both the pop-up at The Knot House and the Howard County Fairgrounds, and a peek at just some of the goodies they'll be bringing.
I plan to be at the festival on Saturday, sporting a new shawl by Deb Gerhard that she designed with Into the Whirled's Bryce Canyon-inspired Knitting Our National Parks colorway, which you can see below. I'll be at the ITW booth at 12:30 p.m. for an Indie Untangled meetup, and you can see the yarn and the design in person. Hope to see you there!
THE KNOT HOUSE INDIE POP-UP
This is the fourth-annual indie pop-up that Cathy and Heather are throwing. In the spirit of the Indie Untangled Rhinebeck Trunk Show, it brings together a collection of dyers and makers from around North America. Unlike the IU Rhinebeck show, it runs all weekend, with a preview party on Friday night from 5 to 9 p.m.
Sandra, who is based in nearby Virginia, will have some of the Indie Untangled Knitting Our National Parks colorway, Glaciers and Wildflowers (pictured above), on hand, along with her famous speckled skeins.
Julie hails from Montreal, with a beautiful palette of dreamy semisolids and subtle speckles.
Pictured clockwise from the top left are Good Morning Fredrick, an event exclusive, a Nuances set (five 28-gram mini skeins of Leizu Superwash Merino/silk fingering) in Pivoines, and a selection of colorways.
Candice will be coming to the show all the way from Montana, bringing her soft, Western-inspired colorways.
Pictured clockwise from the top left are Half Breed, Heartbreak Hotel and Paul Newman in Foxy Lady (70% Merino/30% silk), Monarch in Mighty Mo (70% kid mohair/30% Mulberry silk), and Gary Cooper and Are You Sure Hank Done It That Way on Foxy Lady.
Aimee is another Virgina-based dyer, known for her beautiful semisolids.
Pictured clockwise from the top left are Old Favorite, Loganberry on Vixen (Superwash Merino and silk fingering), various colors of Vixen, and her Blue Boy, Silver Birch and Deep Water colorways.
Vicki sews her adorable and functional project bags in Maryland. She will bring a variety of zipper bags, including some made with a sparkly linen fabric that is perfect for showing off your fiber flare.
There will also be yarn from South Carolina's Autumn and Indigo, Connecticut's Nice and Knit, Periwinkle Sheep from Albany, N.Y., and Swift Yarns from New York City.
THE FESTIVAL
See the festival map here.
Main Exhibition Hall, Booth C4
Alice, who is based in Silver Spring Maryland, will be bringing her popular semisolid and speckled colorways and mini-skein kits.
In the first image, pictured clockwise from the top left are Backyard Fiberworks Sock in Urchin, Stormcloud, the Spiced Cider mini skein set, and Mallow.
Main Exhibition Hall, Booth C28
Famed designer Anne Hanson will be bringing stunning samples made with her line of custom-milled yarns that show off the natural creams, browns, and greys.
Pictured above is the Deep Dive sweater knit in Better Breakfast Fingering (55% Merino, 35% dehaired alpaca and 10% nylon), the Polypore shawl knit in Chebris lace (60% Merino/40% mohair), and a selection of Better Breakfast Worsted (65% Merino, 35% dehaired alpaca).
Outside North, Booth N1
Based in Colorado, this mom and pop operation specializes in yak blends and in the last few years they have begun collaborating with indies on hand-dyed colorways.
Pictured clockwise from the top left are the Gobi base (baby camel and silk) in the Valkyrie-inspired hand-dyed colors, Shangri-La Lace (50/50 yak and Mulberry silk) in the Explorer collection, new stickers that they will be handing out, and variegated Shangri-La Lace.
Outside Lower Corral, Booth LC9
Also from Maryland, Kate and her crew are MDSW veterans, bringing a huge selection of colorful yarns.
Pictured above is the Maryland Mini color pack and Andrea Medici's Calverts and Crossings Cowl, along with Dragonfly's show exclusive colorway Boardwalk Lights, named after Ocean City, Maryland, at night.
Barn 5, Booth 14
Shepardess Katrina Updike has been raising British and rare breed sheep, including Blue-Faced Leicester, Gotland, Leicester Longwool and Teeswater, for the past 18 years on a farm in Pennsylvania.
Pictured clockwise from the top left are a selection of her BFL fingering, a sample of Katrina's Spring Lilac colorway, Merino Bulky in Tropical Breeze, Pebble Beach and Lilly Pad, and beads strung for spinning.
Main Exhibition Hall, Booth B16
New York-based dyer Cris is known for her semisolid and variegated colorways, and she has recently moved into speckles, including her colorway for the Indie Untangled Knitting Our National Parks series.
Pictured clockwise from the top left are the new speckled colorways, batts in various colors, Shokan Singles single fingering in the Bryce Canyon-inspired Hoodoos colorway (which you can see in person in her booth and preorder here), and braids of fiber.
Outside North, Booth N12
Sarah, who is based in Georgia, is known for her eye-poppingly bright colorways. Aside from yarn and fiber she'll also be bringing Turkish spindles made by her husband under the name Subterranean Woodworks.
Pictured clockwise from the top left are new colorways Smoky Quartz and Neon Lotus, along with the spindles and fiber braids.
Main Exhibition Hall, Booth B26
Anne offers yarn blends made with the fiber from the sheep on her New Jersey farm as well as stunning handspun. At the festival, she'll be debuting her Vintage No. 4, organic Polwarth coordinating sets, and lip balm.
Main Exhibition Hall, Booth A30
Jennifer, another Virginia-ite, is a master of dyeing a variety of colors on both rustically sheepy and luxurious silk bases.
Pictured clockwise from the top left is a set of Aurora (single-ply fingering Superwash Merino), Selene (DK-weight, non-shrink organic wool), stitch markers from Katrinkles, and Jennifer's new enamel mugs.
You can see more goodies in Jennifer's sneak peek post.
I'm writing this post from a hotel north of the Edinburgh airport, where I was sent after my flight home to New York was canceled in anticipation of the nor'easter. While I'm crossing my fingers that I'll get back in time to attend the Mohonk Mountain House Knitting Weekend, where I will be vending in the marketplace, the travel hiccups haven't yet wiped away the happy feelings from attending such a wonderful knitting event and the joy I got from being around so many friends and fiber people, including many who traveled from around the world — our apartment had representation from Norway, Greece and Israel!
The Edinburgh Yarn Festival, which took place from March 15-17, is probably best described as a combination of the New York Sheep & Wool Festival and the Indie Untangled Rhinebeck Trunk Show. There was a mix of bright speckled skeins from indie dyers such as La Bien Aimée, Uschitita and Martin's Lab, and more rustic, local blends spun from British sheep (Blacker Yarns, Uist, TOFT, Daughter of a Shepherd and John Arbon, to name just a few of the indie companies). Some dyers — Kettle Yarn Co., Eden Cottage Yarns, Old Maiden Aunt — combined the two and dyed fiber beyond the usual Superwash Merino and Cashmere.
The local feel came through in the events surrounding the extensive marketplace, including a giant crocheted highland cow and the Friday night ceilidh, where some of the vendors, instructors and attendees came together for traditional Scottish dancing (Stephen West's dancing background was evident).
Here are just some of the pictures I snapped. You can check out more on Instagram.
Yes, it's been a week since Vogue Knitting Live NYC, but because it was so epic this year (and because I came back to a string of "day job" deadlines) it means I needed a little more time to recover and reflect.
The marketplace was much more crowded this year, expanding outside the actual ballrooms on the fifth and sixth floors of the Marriott Marquis in Times Square. It helped that I had an idea of where I wanted to shop and enjoyed browsing the booths of the Indie Untangled vendors at the show, including Fuse Fiber Studio, Youghiogheny Yarns and AlexCreates.
As you can imagine, the Stephen & Penelope booth, which included La Bien Aimée and Undercover Otter, were jam packed Friday and Saturday, before Aimée actually sold out, but it was great to see her gorgeous colorways in person, albeit from a distance.
While the yarn is great, we all know the best part of any knitting event is getting to hang with some of our favorite people. That includes Bronwyn, AKA Casapinka, who was showing off her All Points South, her pullover shawl (NOT a poncho) in the Dragonfly Fibers booth. And, yes, that's me in my La Bien Aimée Automne à Rhinebeck Merino DK sweater (and my Porterness Studio necklace)!
I was also lucky enough to take classes from some of the best people in the industry, including Shawl Construction with Melanie Berg (the highlight was having her compliment my On the Spice Market shawl), Yarn 101 with Clara Parkes (this should be a required course for every knitter!) and Color Confidence with Andrea Mowry, shown here mastering the art of the Fade.
I added far more to my stash than I was counting on (including Domestic Superwash from Magpie Fibers that I'm going to use to finally knit my husband the sweater I've been promising) but the indulgences were so worth it. I think it was good preparation for the Edinburgh Yarn Festival in March…
I've been attending Vogue Knitting Live in NYC regularly for the last several years, and each year I've seen more and more indie dyers and makers in the marketplace. VKL NYC 2018 is shaping up to be one of the indie-est years in recent memory, with a huge selection of dyers and makers, many of them local, scattered over the two floors at the Marriott Marquis in Times Square from January 12-14.
To help prepare you for what I know will be a whirlwind weekend, I decided to create a special shopping guide to some of the Indie Untangled vendors at the show, with a sneak peek at the yarns and products they'll be bringing.
I'll be around all three days, taking classes with Melanie Berg, Clara Parkes, and Andrea Mowry, and doing some damage in the marketplace. If you see me, definitely come by and say Hi!
Sixth Floor, Booth 907
Alex is a NYC native, born and raised in Harlem. He taught himself to crochet at age 13 and opened his Etsy shop in 2011, and is known for his candy-colored gradient yarn.
Pictured clockwise from the top left are Ombre Sock yarn in Strawberry Lemonade, MCN in Disco Heaven, Ombre Targhee in Blue Bombsicle, and Single Ply Merino in Pennies from Heaven.
Fifth Floor, Booths 314 & 316
Alice, who is based in Maryland, is not only bringing her popular semisolid and speckled colorways, but is debuting the first installment of the Knit Like a Local series she has collaborated on with designer Kathleen Dames. I Knit NY includes 10 patterns by a team of local designers — including Brittney Bailey, Kirsten Kapur, Xandy Peters, and Lars Rains, along with Kathleen — inspired by New York City landmarks like Rockefeller Center and the clock at Grand Central Terminal, all made with Alice's yarn. The book also includes a yarn store guide written by yours truly and an essay by Kay Gardiner of Mason Dixon Knitting.
In the first image, pictured clockwise from the top left are Backyard Fiberworks Sock in Urchin, Stormcloud, the Spiced Cider mini skein set, and Mallow.
In the third image, pictured clockwise from the top left are Xandy Peters' Rockefellar Center, Kathleen Dames' 42nd & Lex, Kirsten Kapur's Jane Jacobs, and Kathleen's Opal Clock.
Sixth Floor, Booth 910, 912 & 914
Also from Maryland, Kate and her crew are VKL veterans, and always bring a huge selection of colorful yarns to their massive booth.
Pictured above is their exclusive VKL colorway, Twilight Skate, along with, from top to bottom, the colorways Jocelyn, Springtime In Washington, and Denaili.
Fifth Floor, Booth 102
Rebecca launched her business after taking a dyeing class with Felcia Lo at last year's VKL. This fast learner creates gorgeous colorways from a studio in northern Connecticut, housed in a factory that once manufactured safety fuses for mining.
Pictured clockwise from top left are Wintergreen, Straw, and Moorland and Stone Walls on Fuse Fingering and Pearls on Fuse Merino Singles. Rebecca will have a sample of Caitlyn Hunter's Zweig sweater that I can't wait to see.
Sixth Floor, Booth 1103
Kemper's hand-dyed yarns are inspired by inspiring women, from actresses to activists.
Pictured above is Andrea Mowry's Comfort Fade knit with Junkyarn DK (100% Superwash Merino) in the colorways Fleur, Lara, Dolly, and Diana. The top photo is of Holly Golightly, a VKL 2018 exclusive, and below that is the colorway Amilyn.
Fifth Floor, Booths 600, 604, 606 & 610
Not only does Dami, another dyer from Maryland, create lovely colorways, but she also collaborates with other popular yarn companies, including Spincycle Yarns from Washington State.
Pictured clockwise from the top left is 5 Pointz in Swanky DK, Paris Train and London Rain in Swanky Sock, the Stoirm cap in Swanky Sock Castaway and Spincycle Dyed in the Wool Family Jewels, and the Gailleann sweater in Domestic Worsted. Christina Danaee will be debuting both designs in the Magpie booth.
Fifth Floor, Booth 514
Based in New Jersey, Angela offers both colors and bases that take cues from pop and rock music.
Pictured clockwise from top left are Walk This Way, Rolling in the Deep, A Thousand Years, and Electric Love.
Fifth Floor, Booth 117
Marsha, who lives just a few blocks away from me in Brooklyn, crafts fun stitch markers with a geeky, pop culture spin (think Dr. Who and Harry Potter).
The above sets, which include a VKL exclusive, are just a small sampling of what she'll be bringing. Marsha is sharing a booth with one of my favorite NYC LYSes, Woolyn, which will have store exclusive colorways from Asylum Fibers, MollyGirl and more.
Sixth Floor, Booth 1103
If you collect (or want to start to collect) knitting-related enamel pins, you need at least one from Shelli. Based in Alexandria, Virginia, Shelli also designs creative knitting-related accessories, like the gift tags, mug and t-shirt pictured above (I've already claimed a shirt in XS!).
Fifth Floor, Booth 114
Pronounced yock-i-gainey (think "yock" like "sock"), this team from the Youghiogheny River valley in Pennsylvania creates vibrant colorways.
Pictured clockwise from top left are Forest Sprite on Wooly Yak, Spilled Wine on Highlands Festival, Warm Honey on Silky Yak Singles, and Cloudy on Somerset Silk.
My trip to this year's Maryland Sheep & Wool Festival started like most other fiber-related trips. I had a particular goal in mind — getting some of Middle Brook Fiber Works Vintage No. 2 — but nothing else in terms of stashing plans. While that kind of non-action plan can be a little dangerous, it can also lead to some pleasant discoveries.
The Knot House
My weekend started, of course, at The Knot House for the MDSW indie pop-up. Cathy and Heather brought together a fabulous group of indies, including a surprise appearance from Lisa of White Birch Fiber Arts.
The selection in the front of the store had a decidedly domestic vibe, with Dami of Magpie showing off her new Solstice, a blend of USA Superwash Merino, domestic cotton and silk, and Julie Asselin, who displayed her new Nomade sock yarn, which also uses USA Merino along with nylon.
I also enjoyed getting to chat briefly with Julie and her husband Jean-François.
I admired the event exclusive colorways, like this one from Skeinny Dipping, which Christine said used seven different colors (as opposed to her Rhinebeck color, which only used two).
I got to see some familiar favorites, including Indie Untangled regulars That Clever Clementine, whose colorful bags were a welcome site as soon as we walked through the door after our six-hour drive through the rain, and Spun Right Round.
I also finally got to see Swift Yarns in person and meet Carol, a dyer who lives not far from me in Queens, NY.
And what would an indie yarn event be without a line? It took me a while to check out, but the conversation with fellow knitters and admiring my haul in the beautiful early evening light that streamed through the windows made it worth the wait.
My totally unplanned purchases included Skeinny Dipping's Merino Fingering in Hearth Tweed, a color I'd been admiring for a while, and Duck Duck Wool's Silky Singleton in Don't Be Ranunculus, Sandra's flowery pun and show exclusive colorway, and also in Metalware. The fact that there were only two left of these colors might have had something to do with the impulse purchase, and the fact that they went with the hedgehog bag I'd picked up from Vicki right after I walked in certainly helped.
The Festival
I usually think of MDSW as more of a shawl festival, since its steamy spring weather is not ideal for showing off handknits. But, with temperatures in the 50s and a damp chill from the intermittent rain, this year's festival had perfect sweater weather, so I was happy I finished my You Wear It Well from designer Mary Annarella.
I made sure to check out Jill Draper's booth to get an advanced look at her collaboration with Kirsten Kapur, the soon-to-be-released Cozy Cottage Orchard Wrap, knit with Jill's new Olana base, a blend of Cormo, alpaca, Cashmere and angora.
I also hung out with Alice and the crew in the Backyard Fiberworks booth, admiring people's consistent color choices.
And, of course, I got what I came for. Anne's new base, a blend of Cormo/Merino, Shetland, alpaca and silk, has her trademark rustic luxury. While it would make an excellent sweater, I'm looking forward to pairing the Cirrus and Bracken colors for Kirsten Kapur's Abingdon shawl.