This is the first in a series of blog posts featuring the fabulous sponsors of Indie Untangled Everywhere, taking place from October 15-17, 2020.
Four years ago this month, Jessica Giordani and Karen Zook launched Scratch Supply Co., a craft store and inclusive home for makers in Lebanon, New Hampshire. Since then, they along with their partner Travis, have transformed the shop into a showcase for indie, women, POC/BIPOC, queer and otherwise underrepresented dyers and makers.
Scratch's monthly Cast-On Club — I'll be curating the October box! — celebrates the diversity of the fiber community with an exclusive colorway, and the shop features many indie brands that are familiar to Indie Untangled readers — Cat Sandwich Fibers, Fuzz Family, Julie Asselin — and some that may not be.
Since Petrina, Indie Untangled's event producer, introduced me to the Scratch folks at Vogue Knitting Live NYC in January, I've enjoyed getting to know them and share in their enthusiasm for our amazing indie community (they'll also be sponsoring the Bingo night that Petrina is hosting the Friday of Indie Untangled Everywhere, which means some great indie prizes!).
Tell me about the decision to open Scratch Supply Co. Did you ever think you'd own a yarn shop?
Not really! We didn't even decide to open a yarn shop at first — we started as a multipurpose craft store with a handwork makerspace in the basement.
When we first opened the doors, we barely had any yarn at all. We had like two shelves with 40 skeins of yarn total and some hopeful shade card boxes — and we were SO proud of those two shelves. The best thing you could say about us was that we were scrappy. If you wanted to knit a sweater you could make something with stripes or wait for us to order a sweater's quantity of one color. We were trying! Fortunately for us, our enthusiasm resonated with the knitting community, and they stuck with us through this awkward period while we found our footing, fine-tuned our offerings, and started stocking a full range of colorways in quantities large enough to make something bigger than a hat.
Over the last four years we've been fortunate to have the opportunity to create a welcoming and inspiring space, and grow — with our amazing community of makers — into the LYS we were meant to be.
What you each of you do before you became yarn shop owners and how do you think it informs what you bring to the business?
The three of us met after Travis and Jessica moved to Connecticut after Travis left the Marine Corps. Jessica opened a small bakery and Travis and Karen met while they were enrolled in a PhD program in Comparative Literature.
We all have experience with research and working independently, and we've all been teachers in some capacity at some point. Jessica has previous experiencing running a retail shop, Karen has a background as a freelance writer, and Travis has government training in getting shit done.
We bring a lot of flexibility and a can-do, make-it-work spirit to Scratch. Since we all live together this is truly a family business. We've put our hearts into creating a space and a community that reflects who we are, and we like to make the members of our community part of that in any way we can. Our path from idea to execution is lightning-fast — our real area of expertise is in Doing The Thing. (Sometimes the thing is fixing your knitting, sometimes the thing is installing light fixtures, sometimes the thing is finding a way to keep our community connected during a pandemic.)
Why did you choose the dyers and brands that you carry?
First and foremost, we fill our shop with the yarns that we want to knit with! We have a carefully-curated selection that is constantly evolving. We are committed to supporting small makers and small mills, and providing our community access to with quality materials that they won't find in just any LYS. We are enthusiastic about working with talented people in our industry whether they are established or just starting out. The fiber industry is diverse, and we believe that the dyers and makers that we work with should reflect that.
For us, there's no value in filling our shop with yarn that you can get everywhere else. Our favorite thing is when people walk into the shop and announce "You have all the yarns that I follow on Instagram!"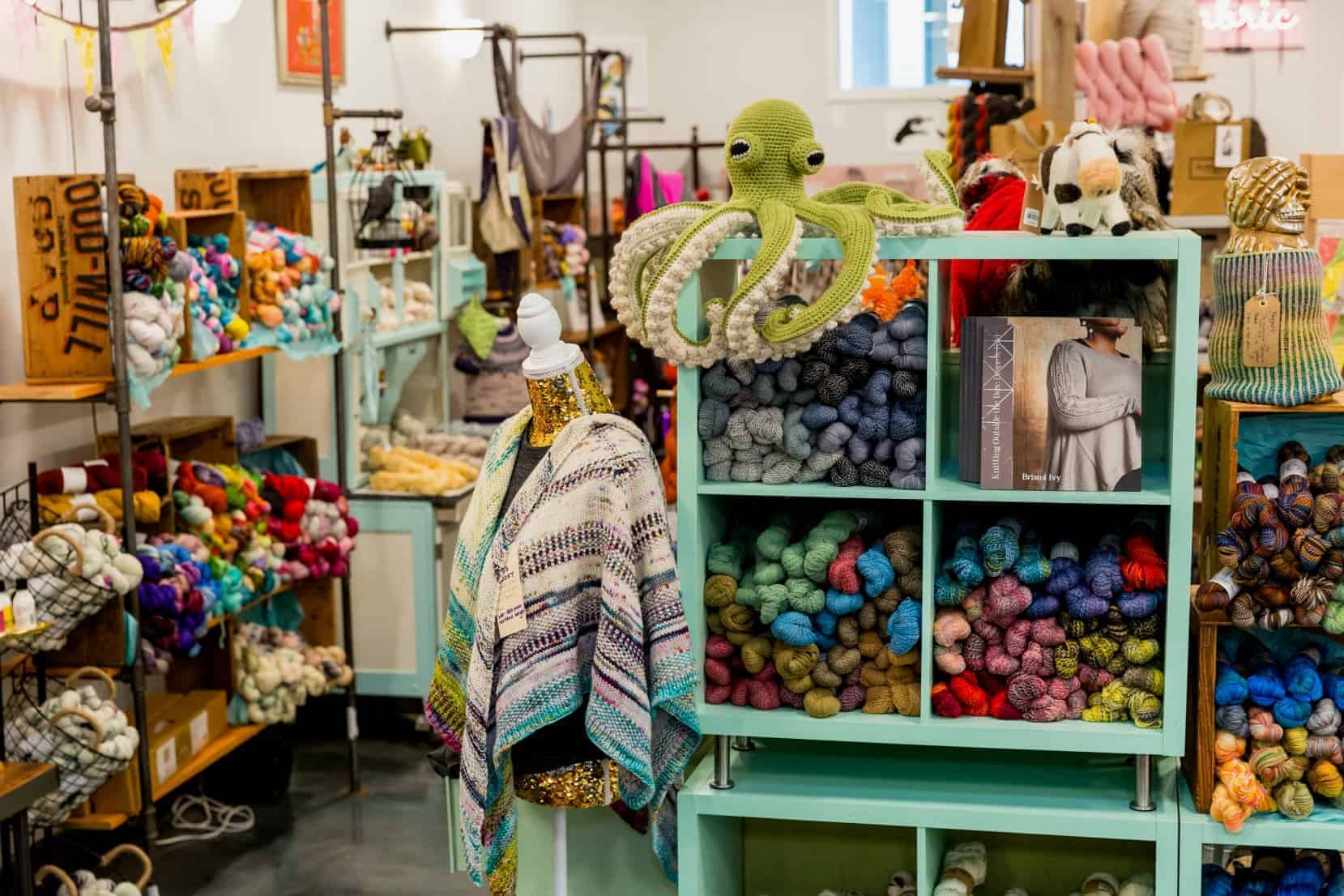 Who are some of your favorite designers?
We love designers who are doing interesting things! It's cold in New Hampshire so we're sweater knitters at heart. We love Jessie Mae, Fatimah Hinds, Shay Johnson, Lavanya Patricella, Isabelle Kraemer, Maxim Cyr and Jacqueline Cieslak.
Crochet designers we're following are Toni Lipsey, Vincent Williams, Twinkie Chan and Stephanie Erin.
Can you talk about any new products the shop is going to carry or special events in the works?
In September we just celebrated our fourth birthday, which is our biggest event of the year and kicks off a wildly-busy fall season!
We've been expanding our yarn selection since March to get ready for the long winter. We've recently brought in three bases by Julie Asselin, DK and bulky weight yarn from The Farmer's Daughter Fibers, fresh Spincycle, lace mohair, worsted and fingering-weight yarn from SweetGeorgia Yarns, the Nightshades from Harrisville Designs and two new fingering-weight bases from Junkyarn.
One of the best things about Cast-on Club (our monthly subscription box) is that we always have something amazing on its way to us — every month a different dyer sends us something new and exclusive! Indie Untangled is curating our October box, and in November our featured dyer is Doug Lopez of Knittinbro.
When and how did you learn to knit?
Karen learned as a child from her mom, and knit/unknit/reknit a rectangle from the same skein of red Red Heart until she left for college. She couldn't tell the difference between the right side and the wrong side of her fabric, so she had a strip of masking tape wrapped around the bottom of one of the horrendous plastic straight needles to help her keep it straight. After college she started a post-bacc program with an endless workload. She was living in Philadelphia and there was an amazing LYS right around the corner, so she started obsessively knitting just to hold a finished object in her hands once in a while. (Fortunately by then YouTube had been invented, which gave her the opportunity to increase her skills!)
Jessica learned to knit when she moved to Minnesota for grad school. There was a woman in her program who would knit through seminars, and since she didn't know anyone and it was very cold, this seemed like a great hobby to take up. She didn't know that LYSs existed, so she picked up a Susan Bates pamphlet and some bouclé yarn and taught herself how to knit while watching Pulp Fiction on repeat. She had been knitting for three years before she could read a pattern and learned a lot of problem-fixing techniques through trial and error.
Travis doesn't knit (we're wearing him down!), but has a lot of opinions about color, fiber content and design.
Tell me about each of your most memorable FOs.
The first sweater Karen ever knit for herself was bottom-up with seamed sleeves. She was very excited about knitting it and bought crazy-expensive alpaca yarn that wasn't really suited to the pattern… it turned into such a fiasco that it's currently stuffing a dog bed.
In 2011, Jessica promised her mom a sweater. She knit all but one sleeve, and that sweater lived in project bags until it was finally consigned to the bin in 2020. It just wasn't meant to be… but don't worry, mom will finally get her sweater this year.
Tell me the projects that are currently on your needles.
Jessica is knitting the Ghost Ranch hat using Dyed in the Wool in Payback and Street Light in Nightshades. It's the squishy, Halloween-y hat of her dreams!
Karen is working on a gift knit that she's going to try to keep a surprise so won't spill the beans on that just yet. She just cast on a Pressed Flowers shawl by designer Amy Christoffers in Juicy DK from The Farmer's Daughter Fibers.