New York City is what I like to think of as a big little town, where it's not that surprising to run into people you know in the most random places. This weekend, you can think of Times Square as a big little fiber festival, as fiber folks will be taking over the area for the 10th anniversary of Vogue Knitting Live NYC.
To help you prepare for the marketplace, which is so epic that it spills outside of the hotel's two ballrooms, here's a guide to several Indie Untangled vendors and a sneak peek at what they'll be bringing.
Fifth floor, Booth 411-413
Asylum Fibers brings you versatile and luxurious yarns, hand dyed in New York City. The brand is best known for bold, unapologetic colorways and tongue-in-cheek inspiration. For 2020, AF is bringing 20 brand new colors and a batch of handmade project bags created by the dyer's mother. Progress keepers by Samantha Decarlo and a new sweater pattern by Casapinka will also be featured. This year, the entire booth is inspired by Wonderland.
Fifth Floor, Launch Pad Booth
Birch Hollow Fibers is a small batch hand dyed yarn company located in the Hudson Valley region of New York. Our yarn is inspired by nature, books and the whimsical moments in life.
Pictured are the colorways Moss Matched, San'layn, Dahlia and Dryad.
Fifth Floor, Booth 118
Birdie Parker Designs offers knit and crochet inspired jewelry and accessories to complement handcrafted garments. Our items are small and they aren't yarn, so they don't count as stash!
Fifth floor, Booth 214
Destination Yarn is an independent, hand dyed yarn company located in Cleveland, Ohio. Founded by a former architect, we believe in the power of place to inspire creativity in all forms. Through a passion for travel, color, and the fiber arts we create unique & vibrant colorways just for you.
For our third year at Vogue Knitting Live we will be bringing our brand new Italy Collection – 5 tonals, and 4 variegated colorways designed to work together and inspired by Italy. We will also have with us our very popular New York colorways including last year's huge hit Brooklyn, along with Grand Central Terminal.
Fifth Floor, Booth 407
My mission with Fully Spun is to encourage and enable people to express themselves through color. We are featuring our new DK weight base, Sock Fingering and a sweater surprise!
Fifth Floor, Booth 120
Fuse Fiber Studio is all about creating colors to spark your creativity! We are a boutique yarn dyeing company focusing on carefully curated, ethically sourced bases and one-of-a-kind colors. I keep my batches small so that I can explore unique and unexpected color combinations and treat each skein of yarn like its own work of art. You can count on every skein being dyed with care and attention to detail from start to finish My goal as a dyer is to create wearable colors that look as beautiful in the skein as they do in your finished projects.
My VKL 2020 collection is one big love letter to New York City! I've created tons of new colorways celebrating the city and all of its glorious contradictions, from elegant tonals on luxury bases to the more complex and moody speckles. Don't miss our signature event colorway — Central Park and our new Comfort DK, locally sourced and spun New York state!
Fifth Floor, Booth 1000
KraeO's Fuzz Family is a line of yarn hand dyed with love, in Chicago. They create beautiful colorways with complex neutrals and a color pallet that is both vivid and wearable.
Sixth Floor, Booth 1015
Hellomello Handspun's limited-edition, small batch mill spun yarns are created seasonally using the highest quality hand-selected fine wool fleeces. Cleaning, carding and spinning is done at a family owned and operated mill located in New York State. Each skein is lovingly dyed by hand at our studio in Brooklyn, NY.
In addition to Hellomello Handspun's signature neon colorways and seasonal mill-spun yarns, our first booth at VKL will feature beautiful Shibori and eco-dyed silk scarves, mending kits and luxury handspun.
Shoppers can help us raise money for those affected by the bushfires in Austrailia. For every skein of undyed "naked sheep" yarn or preorder of our Kangas and Koalas colorway purchased during the event, we will donate $10 to @blazeaid (an organization that helps Australian farmers recover from natural disaster) or @wildlifevictoria (a non-profit wildlife emergency response organization based in Victoria, AU).
Fifth Floor, Booth 100
Katrinkles makes buttons, wearable accessories, and tools for fiber artists out of durable and sustainable wood. Each piece is lovingly designed, carefully crafted and hand-finished in Providence, RI. Our products are made in house on our studio's four laser-cutting machines. Katrinkles makes tools for knitting, crocheting, spinning, weaving, embroidery and needlepoint as well as stitchable ornaments and buttons to decorate your work. Pictured are our new Adjustable Mitten Blockers and some items from our Vogue Exclusive collection.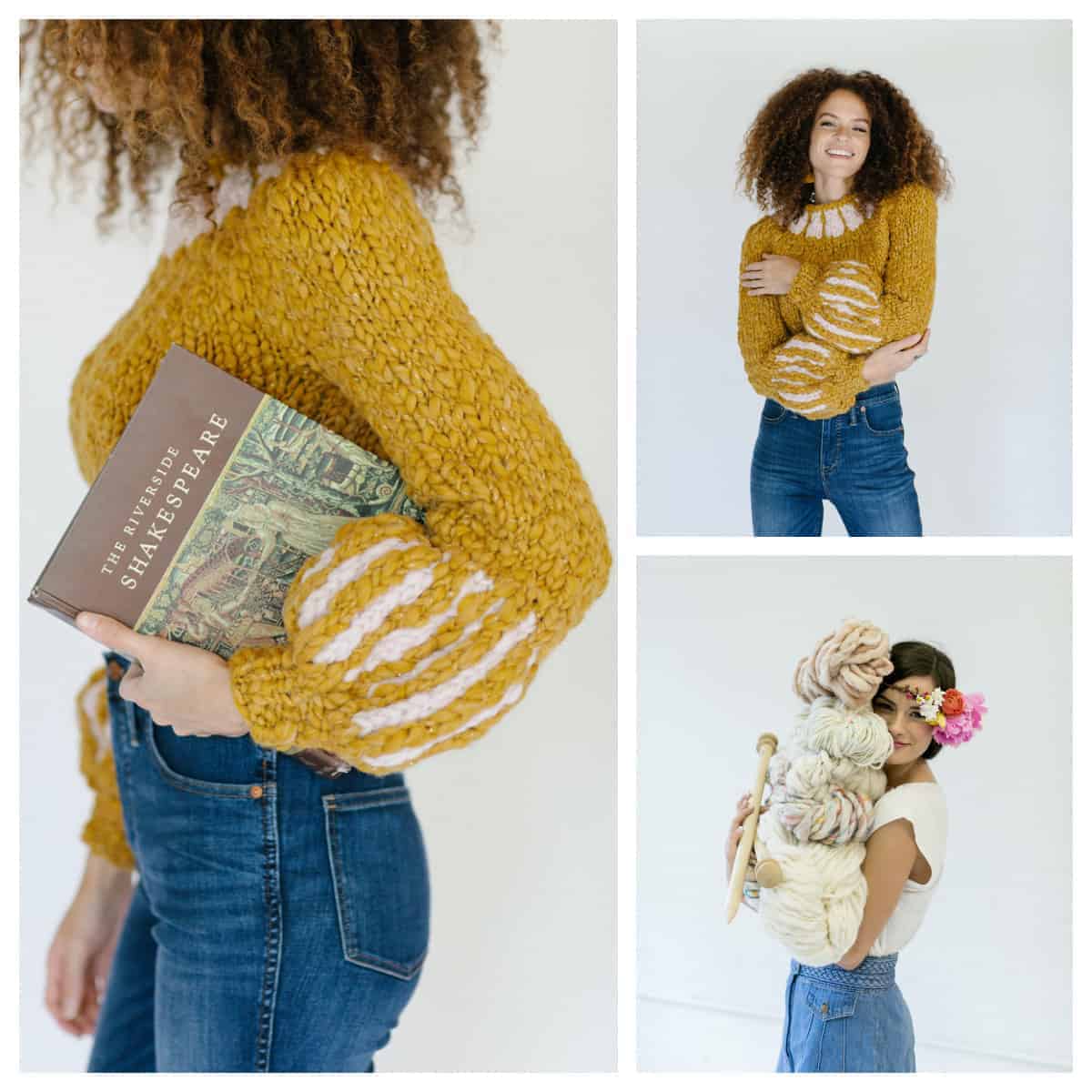 Fifth Floor, Booth 527
Here at Knit Collage, we create unique yarns to inspire your creativity and to get your needles humming!
After about seven months in the making, finally we releasing the Shakespeare in the Park pattern, here at Knit Collage. This design is a dramatic yet easy to knit colorwork sweater, designed by one of our most favorite designers, Park Williams. Check out the kits in our booth at Vogue Knitting Live! The pattern comes free with yarn purchase through VKL weekend only.
5th Floor, Booth 522
Aimee and Brian are the dyers of Little Fox Yarn, based just outside of Richmond, Virginia. Their beautiful, wearable colorways are inspired by the Blue Ridge Mountains where Aimee grew up.
We will have our usual favorites: Little Mo (lace), Vixen (fingering), Linea (sport), Bōsa and Vulpine (DK). We will also be introducing our new Bulky Base, Tod, and we will have new buttons and shawl pins (in wood, clay and antler) by Idlewild Pottery & Notions.
Sixth Floor, Booths 1009-1013
A natural fiber unique in the world. Born in one of the world's most extreme locations. Made with Italian artisanal quality. This is mYak: Born in Tibet, Crafted in Italy.
This year, we will bring our new Tibetan Cloud DK line as well as our Baby Yak with many new wonderful designs, kits and bundles.
We are thrilled to host Jonna and Sini of Laine magazine, Jennifer Steingass, Olga Buraya Kefelian, Kirsten Kapur, Thea Colman and Susanne Sommers at our booth throughout the weekend.
Portnerness, with her amazing line of jewelry, will joining us as a guest brand and for the first time we will bring an incredible selection of Temaricious embroidery and crafting floss, naturally dyed in Japan. We will also offer Laine magazine's Knitting Journal and pins, and Indie Untangled Fiber Friends pins.
Fifth Floor, Booth 208
Sweater Sisters out of Alta, Wyoming offers kits, yarns hand-dyed in the Tetons and professional Landscape Dyes from Australia. They're dedicated to offering luxury fibers to elevate your crafting experience.
Pictured are the Crystal Meadows Shawl and Ramalina by Susanne Visch.
Fifth Floor, Booth 111
TreLiz hand-dyed yarns are here to remind you that: Color is Power, Fiber is our Weapon.
Sixth Floor, Booth 1101-1103
Drawing from my experience in fashion, I approach dyeing with a lot of intention, and focus on the final product your creations. While a skein of yarn is where my process ends, I think about what you will make with it. My hope is to create a line of yarn and classic, yet contemporary, knitwear patterns that will fit into your everyday wardrobe.
I will be presenting my line of yarn and patterns, including the Arete sweater I designed for Pom Pom Quarterly's Winter 2019 issue.
Sixth Floor, Booth 1006
Zen Yarn Garden's dye studio is based is Ontario, Canada. Our yarn is special. We take pride in providing the most luxurious fibres and dyeing them in a range of beautiful semi-solid, splatter and one-of-a-kind colourways. 
Our booth will be filled with NY-themed colourways available exclusively at Vogue NY. We will also have hand-dyed, ready-to-wear scarves in our custom colours.
Food guide
When you find time to tear yourself away from the marketplace, or if you need sustenance between classes, here are a few of my favorite food recommendations in the Times Square area.
If you want…
A quick bite, head to City Kitchen, a gourmet food court with a selection that includes Luke's Lobster and Dough donuts.
To relax with a pint, try Beer Culture, a cozy bar with a rotating selection of craft beers on tap and fridges filled with microbrews. They also serve wine and whiskey if beer's not your thing, along with a menu of creative pub food.
Dinner with a small group of friends, I highly recommend The Marshal, a farm-to-table restaurant with a brick oven.
A bistro brunch, hit up BXL Cafe, a low-key place with great egg dishes and delicious Belgian waffles.