Maryland Sheep and Wool Festival seems to have snuck up on me this year. While I don't have a stashing plan in mind (which probably means I'll do more damage than I planned), I'm looking forward to spending time with beloved fiber friends and meeting some of my favorite indie business owners.
To help you plan, here's a roundup of the Indie Untangled vendors at both the pop-up at The Knot House and the Howard County Fairgrounds, and a peek at just some of the goodies they'll be bringing.
THE KNOT HOUSE INDIE POP-UP
This is the fifth annual indie pop-up that Cathy and Heather of The Knot House are throwing. In the spirit of the Indie Untangled Rhinebeck Trunk Show, it brings together a collection of dyers and makers from around North America. Unlike the IU Rhinebeck show, it runs all weekend, with a preview party on Friday night from 5 to 9 p.m.
Dragon Hoard Yarn is a one woman show run by Trysten out of Utah. Her style is inspired by pop culture, geeky fandoms, and witchy themes.
I'll be bringing the entire Outlander collection, including:
Lallybroch (green), Red Jamie (Orange), Clan Fraser (blue), and Je Suis Prest. (Blue and brown). I'll also be giving a sneak peek at a new design coming out in July! The Moondrip Summer Tee will be showcased, and I will be there to help people create kits!
The Farmer's Daughter Fibers specializes in hand-dyed yarns inspired by dyer Candice's cultural heritage and Montana roots.
Aimee & Brian are the dyers of Little Fox Yarn, based just outside of Richmond, Virginia. Their subtle, wearable colorways are inspired by the Blue Ridge Mountains where Aimee grew up.
We will be at the Knot House Indie Dyer Pop Up this weekend. We will have all of our usual lineup of tonal yarns including our new Vixen Lace base.
Also at The Knot House will be ShelliCan and Nice & Knit.
THE FESTIVAL
See the festival map here.
Main Exhibition Hall, Booth C28
Bare Naked Wools offers natural, dye-free, artisanal yarns in single breed and wool blends, wool and alpaca blends, and unique luxury blends.
• The hat is the "Happy Dog Cap" which we will be selling at MDSW as a kit with Betty King Natural Dyes Merino DK.
• The pullover sweater is "Multigrain"
• The lace shawl is "Harrier"
• The yarn is Better Breakfast DK, a luxury alpaca blend
Outside North, Booth N1
Bijou Basin Ranch provides sustainably harvested, high quality exotic yarns & fibers dyed by various indie dyers across the country. After 15 years of merchandising yarn, BBR will be closing its doors by the end of the year, so don't miss your chance to see, feel and purchase at our last MDS&W Festival!
Pictured clockwise from the top left are:
Solids by MJ Yarns on Xanadu, 100% Mongolian Cashmere
The Valkyries Series by MJ Yarns on Gobi, 35/65 baby camel/Mulberry silk
The Mariposa Series by Colorful Eclectic on Himalayan Summit, 50/50 yak/Merino — brand new at the show!
Various colors by ModeKnit Yarns on Tibetan Dream, 85/15 yak/nylon
Outside Lower Corral, Booth LC9  
Dragonfly Fibers has been dyeing high-quality yarn and fiber in suburban Washington, DC, for more than ten years. We're known for our vivid and saturated tonal and variegated colorways, and we have gorgeous neutrals, too! Come see all that's new and beautiful in the Lower Outside Corral!
Our brand-new tote bag is free to the first 25 customers both days and all purchases over $125. Available for purchase for $12.
Our newest yarn, Faerie, an ethereal mohair-silk blend, is perfect for warm-weather knitting. The Jocelyn colorway (shown in Pixie, also in Jocelyn) makes for a beautiful spring Elton, by Joji Locatelli.
Our show exclusive colorway, Carroll Creek Park's bright and happy colors make it perfect for spring! It will be available on multiple bases. Supplies are limited, so be sure to stop by early in the morning for the best selection.
We will also have three great kits for the brand-new Casapinka design, Magical Thinking, which made its debut last Saturday during LYS Day.
Barn 5, Booth 14
We specialize in British and U.S. rare and heritage breed sheep. We gain our inspiration from the sheep themselves and the beautiful countryside. For those participating in the Shave Em to Save Em and the 52 weeks of sheep programs we will have both natural spinning fibers and yarns produced from the sheep here at the farm.
Main Exhibition Hall, Booth B13
Knittyandcolor specializes in eye popping bright, unique pastel, and fun speckled yarn and fiber. Her husband, Subterranean Woodworks specializes in finely crafted, exotic wood and hand dyed Turkish spindles.
Outside Lower Corral, Booth LC18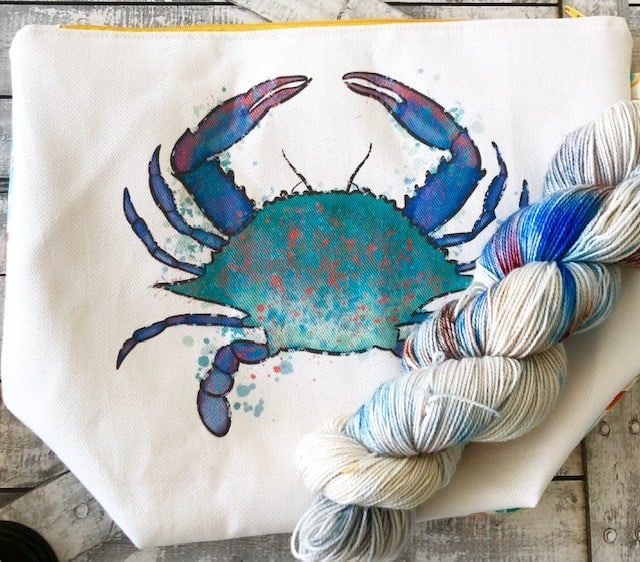 Created by sisters, Helen and Mary Beth, Toad Hollow makes project bags and hand dyed yarn. Our products all have a whimsical sense usually based on books and fandoms we love. Limited quantities of our Maryland 2019 color, "Crab Pickin," will be available this weekend.
Main Exhibition Hall, Booth B2
Wolle's Yarn Creations will be at MDSW for the third year and we are bringing our amazingly soft and deluxe Cotton/Silk yarns as well as our new Cotton/Bamboo yarns. Also, new this year: DK Cotton yarns, perfect for all your summer tops. Stop by and touch our yarns — feeling is believing.
Also at the festival will be:
Backyard Fiberworks, Main Exhibition Hall, Booth C4 
Crafty Flutterby Creations, Barn 3, Booth 5
Into the Whirled, Main Exhibition Hall, Booth B16
Middle Brook Fiberworks, Main Exhibition Hall, Both B26