Maryland Sheep and Wool Festival seems to have snuck up on me this year. While I don't have a stashing plan in mind (which probably means I'll do more damage than I planned), I'm looking forward to spending time with beloved fiber friends and meeting some of my favorite indie business owners.
To help you plan, here's a roundup of the Indie Untangled vendors at both the pop-up at The Knot House and the Howard County Fairgrounds, and a peek at just some of the goodies they'll be bringing.
THE KNOT HOUSE INDIE POP-UP
This is the fifth annual indie pop-up that Cathy and Heather of The Knot House are throwing. In the spirit of the Indie Untangled Rhinebeck Trunk Show, it brings together a collection of dyers and makers from around North America. Unlike the IU Rhinebeck show, it runs all weekend, with a preview party on Friday night from 5 to 9 p.m.
Dragon Hoard Yarn is a one woman show run by Trysten out of Utah. Her style is inspired by pop culture, geeky fandoms, and witchy themes.
I'll be bringing the entire Outlander collection, including:
Lallybroch (green), Red Jamie (Orange), Clan Fraser (blue), and Je Suis Prest. (Blue and brown). I'll also be giving a sneak peek at a new design coming out in July! The Moondrip Summer Tee will be showcased, and I will be there to help people create kits!
The Farmer's Daughter Fibers specializes in hand-dyed yarns inspired by dyer Candice's cultural heritage and Montana roots.
Aimee & Brian are the dyers of Little Fox Yarn, based just outside of Richmond, Virginia. Their subtle, wearable colorways are inspired by the Blue Ridge Mountains where Aimee grew up.
We will be at the Knot House Indie Dyer Pop Up this weekend. We will have all of our usual lineup of tonal yarns including our new Vixen Lace base.
Also at The Knot House will be ShelliCan and Nice & Knit.
THE FESTIVAL
See the festival map here.
Main Exhibition Hall, Booth C28
Bare Naked Wools offers natural, dye-free, artisanal yarns in single breed and wool blends, wool and alpaca blends, and unique luxury blends.
• The hat is the "Happy Dog Cap" which we will be selling at MDSW as a kit with Betty King Natural Dyes Merino DK.
• The pullover sweater is "Multigrain"
• The lace shawl is "Harrier"
• The yarn is Better Breakfast DK, a luxury alpaca blend
Outside North, Booth N1
Bijou Basin Ranch provides sustainably harvested, high quality exotic yarns & fibers dyed by various indie dyers across the country. After 15 years of merchandising yarn, BBR will be closing its doors by the end of the year, so don't miss your chance to see, feel and purchase at our last MDS&W Festival!
Pictured clockwise from the top left are:
Solids by MJ Yarns on Xanadu, 100% Mongolian Cashmere
The Valkyries Series by MJ Yarns on Gobi, 35/65 baby camel/Mulberry silk
The Mariposa Series by Colorful Eclectic on Himalayan Summit, 50/50 yak/Merino — brand new at the show!
Various colors by ModeKnit Yarns on Tibetan Dream, 85/15 yak/nylon
Outside Lower Corral, Booth LC9  
Dragonfly Fibers has been dyeing high-quality yarn and fiber in suburban Washington, DC, for more than ten years. We're known for our vivid and saturated tonal and variegated colorways, and we have gorgeous neutrals, too! Come see all that's new and beautiful in the Lower Outside Corral!
Our brand-new tote bag is free to the first 25 customers both days and all purchases over $125. Available for purchase for $12.
Our newest yarn, Faerie, an ethereal mohair-silk blend, is perfect for warm-weather knitting. The Jocelyn colorway (shown in Pixie, also in Jocelyn) makes for a beautiful spring Elton, by Joji Locatelli.
Our show exclusive colorway, Carroll Creek Park's bright and happy colors make it perfect for spring! It will be available on multiple bases. Supplies are limited, so be sure to stop by early in the morning for the best selection.
We will also have three great kits for the brand-new Casapinka design, Magical Thinking, which made its debut last Saturday during LYS Day.
Barn 5, Booth 14
We specialize in British and U.S. rare and heritage breed sheep. We gain our inspiration from the sheep themselves and the beautiful countryside. For those participating in the Shave Em to Save Em and the 52 weeks of sheep programs we will have both natural spinning fibers and yarns produced from the sheep here at the farm.
Main Exhibition Hall, Booth B13
Knittyandcolor specializes in eye popping bright, unique pastel, and fun speckled yarn and fiber. Her husband, Subterranean Woodworks specializes in finely crafted, exotic wood and hand dyed Turkish spindles.
Outside Lower Corral, Booth LC18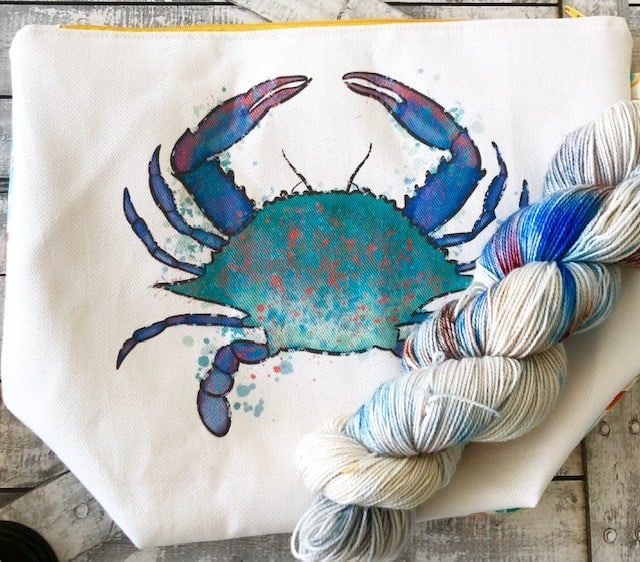 Created by sisters, Helen and Mary Beth, Toad Hollow makes project bags and hand dyed yarn. Our products all have a whimsical sense usually based on books and fandoms we love. Limited quantities of our Maryland 2019 color, "Crab Pickin," will be available this weekend.
Main Exhibition Hall, Booth B2
Wolle's Yarn Creations will be at MDSW for the third year and we are bringing our amazingly soft and deluxe Cotton/Silk yarns as well as our new Cotton/Bamboo yarns. Also, new this year: DK Cotton yarns, perfect for all your summer tops. Stop by and touch our yarns — feeling is believing.
Also at the festival will be:
Backyard Fiberworks, Main Exhibition Hall, Booth C4 
Crafty Flutterby Creations, Barn 3, Booth 5
Into the Whirled, Main Exhibition Hall, Booth B16
Middle Brook Fiberworks, Main Exhibition Hall, Both B26
Time definitely flies when you're having fun. I was in New Orleans last week celebrating my mom's birthday, after coming down from the high that was Andrea Untangled, and I completely forgot that Indie Untangled turned FIVE YEARS OLD a week ago!
When I sent out my first newsletter on April 4, 2014, in order to spread the word about indie dyer shop updates, I never could have dreamed what Indie Untangled would become: events like the Rhinebeck Trunk Show, Indie Goes West and Andrea Untangled, a place for exclusive colorways and a way to raise thousands of dollars for the National Park Foundation.
In honor of this milestone, I figured that a few giveaways were in order. Here's how to enter:
Newsletter giveaway
Subscribe to the newsletter by midnight Eastern time on Thursday, April 18 and you'll be entered to win an Untangled shawl bundle with the exclusive colors from La Bien Aimee.
Blog giveaway
Comment on this blog post by midnight Eastern time on Thursday, April 18, with your favorite Indie Untangled dyer/designer/maker discovery and you'll be entered to win a Rainshadow shawl bundle with the exclusive colors from La Bien Aimee.
Keep your eyes on the Indie Untangled Instagram account next week for a separate giveaway there.
If the last two years at the Edinburgh Yarn Festival (and fiber events in general) were all about the speckle, then 2019 was the year of embracing sheep-y goodness in all its many varieties. The vendors at EYF have long promoted British wool, but this year it seemed like there was so much fiber content beyond Superwash Merino, even among the indie dyers who tend to gravitate towards that tried and true base.
My finds at EYF 2019 bore out that trend — in fact, I'm proud to say that there is no Superwash Merino in my haul!
Here are some of my favorite finds from this year's EYF.
One of the first things I had to check out was La Bien Aimée's new base, Mondim. This yarn is collaboration between Aimee and Rosa Pomar, the owner of Retrosaria Rosa Pomar in Lisbon, Portugal. Rosa has created yarn bases comprised of wool from Portuguese sheep and they take more than two dozen of Aimee's colors beautifully.
There were already a few sweater samples knit up, including Andrea Mowry's LYS (which stands for Little Yellow Sweater) and Isabell Kraemer's Eula, with her sample using buttons from ultra-tempting EYF vendor Textile Garden.
I was also excited to see London-based dyer Ocean of Ocean By the Sea, whose botanically-dyed yarn was available in a special pop-up in Ysolda's space at the festival. There were so many tempting soothing colorways and bases, including this skein of Falkland wool in the appropriately-named Beachcomber colorway.
No EYF would be complete without yarn from one of Scotland's many islands. Uist Wool is a mill that has been based in the Outer Hebrides of Scotland since 2013. I was particularly attracted to their Canach cottongrass blend, spun from Scottish Merino, a cross breed of Shetland and Saxon Merino sheep. The flecks of white in the dark gray yarn I ended up buying makes for a beautiful natural speckle.
Kettle Yarn Co.'s colorful display of Northiam DK British Bluefaced Leicester, which is spun and dyed at a British mill, also caught my eye, as did her sample of Caitlin Hunter's Tecumseh.
Martin's Lab (who I'm excited to have as part of this year's Indie Untangled yarn club) debuted a new base called Aubrey Sport, a blend of BFL and silk. It was used in the Homecoming Collection of mitts to sweaters by 10 designers.
Speaking of patterns, a couple of my favorites from the show did actually use Merino: I loved Fiona Alice's grown-up version of her Mabel baby cardigan. This sweater, called Mabel's Sister, uses Viola DK and was available in kits at the stand for Loop London.
I also loved glimpsing Casapinka's latest designs in the wild, including this new multicolored shawl, Botanique, in collaboration with Walk Collection.
Skeinny Dipping was one of the first yarn companies to advertise on Indie Untangled, way back in 2014. I was smitten by Christine's glowing colorways, particularly her rich reds and complex browns and greens (and I am generally not a brown or green person) and learned a little more about her when she vended at the first-ever Indie Untangled Rhinebeck Trunk Show that same year.
Christine's background includes working in East Africa with the Peace Corps, which has inspired some of her colorway names (Malaria Dreams and Vervet), as have SNL (I Need More Cowbell and Space Pants) and food (Brown Butter and Blue Raspberry Slurpee).
When she's not dyeing or traveling around the world with her husband and their adorable Chihuahua, Gracie, Christine knits incredible colorwork sweaters. Her yarn is currently available in the Indie Untangled Virtual Trunk Show.
Tell me about how you got started dyeing yarn.
Dyeing yarn was never on my radar. Like many dyers I had gotten to a point in my life where the normal job wasn't possible and I had to find something to do.
What did you do in the Peace Corps?
I was an agroforestry extensionist in the Peace Corps. This was my primary assignment through the Kenyan Ministry of Environment and Natural Resources. I worked with other local Kenyan extensionists in my location (similar to a county) providing technical assistance to subsistence farmers in my region.
My area of expertise was agroforestry, which is a multi-purpose land use system that promotes fuel wood security and improved crop yields on subsistence-sized plots. Together with my Kenyan counterparts we also addressed water and sanitation issues, health education (such as HIV prevention) and any other issues that farmers encountered. I also had some secondary projects like teaching how to bake without an oven, which was a project that happened by accident.
What inspires your colors?
Sometimes it's a word or phrase that inspires the color (Space Pants from SNL). Other times, it's the parasitic diseases of tropical Africa or the nut sacks of Kenyan monkeys (Malaria Dreams and Vervet). If it's disturbing, I'm pretty sure I'll get a good colorway out of it.
Which of your colorways are you most proud of?
I'm proud of them all in their own way, but my favorites are the ones that glow even though they're extremely saturated and dark. Those take a lot of experimentation to get right, and I have to redo the recipes for each base since different fibers take the dyes differently.
Do you have a favorite color or colors, and have they changed since you became a dyer?
My favorite color has always been green, and there were a lot of colors I didn't like before I became a dyer, like yellow and red. But I found that I started to like them if I could get them murky and saturated, so I've come around to those colors. I still don't like pink, though, except for Adobe Wan Kenobi, and that's only because I've pushed that colorway to the line between coral and red. I love gray and black, too.
When and how did you learn to knit?
My grandmom first taught me to knit when I was seven. I only knew the knit stitch, and I had some horrid pink acrylic from Woolworths. Like a lot of kids, I was interested for 10 minutes and then put it aside till I was much older. I picked it up again during my pre-service training in the Peace Corps. We get three months of intensive training in-country before our service officially begins, and it was during this time that our trainers encouraged us to develop another hobby other than reading. We managed to cobble together the rest of the knitting basics like casting on and binding off from within our group. I made a lot of scarves and potholders until the next extension group of volunteers arrived. There was a hat knitter in that group and luckily she was based near me, so I learned how to make Anna Zilboorg's hats. Aside from when I was in grad school and working full time, I haven't stopped knitting since then.
Is there a color that you would love to dye, but that is challenging to create?
I cannot dye less saturated colorways to save my life. I do have Salt Marsh, Zingbat, Vintaged and Blue Raspberry Slurpee but I hated all of them when I came up with them. But everyone else liked them, so they got to stay.
What are some of your favorite projects that you or your customers have made with your yarn?
It's not so much that there are certain projects that are my favorites, but moreso when my customers make something with a colorway they say is not from a color group that they normally like. Those are my favorites — if I can get you to be open to a color group that you didn't like before, that is the ultimate compliment.
It's that time of year again, when Times Square gets overtaken by knitters on a mission, dodging tourists and glaring at the Starbucks line, hoping to make it to their 9 a.m. brioche class on time — or just to the Marketplace to shop for yarn.
The Marketplace at this year's VKL NYC — taking place at the Marriott Marquis in Times Square from January 25-27 — looks to be the busiest it's ever been. To help you prepare, I've put together a guide to the Indie Untangled vendors that you need to visit. Each vendor has introduced themselves and is offering a sneak peek at some of the yarns and products they'll be bringing.
Will you be there this weekend (and on the subway Saturday)?
Fifth Floor, Booths 314 & 316
Asylum Fibers focuses on in-your-face, vibrant tones and one-of-a-kind colorways on over 15 bases, both versatile and luxurious. The brand name was thought up in order to incorporate the playfulness of horror flicks while leveraging the other meaning of the word "asylum," acknowledging that crafting is such a wonderful, meaningful form of therapy and comfort.
Stop by to "embrace your crazy" with a photo shoot and check out some new 2019 colorways. Available will be an event colorway called Sidewalk Reflections, a new base called Brainless Bulky and The Brainless Beanie, a free pattern corresponding with the release of this new base, and a 2019 mini set featuring new colors, including I'm Alive, inspired by the Pantone color of the year.
Fifth Floor, Booth 321
I dye everything out of my home's basement in New Jersey and I'm inspired by all things cute and pink.
I'll be bringing more than 20 new colorways, some of which are one-of-a-kinds and will never be repeated again. A ton of new colors are inspired by Sailor Moon, which is a show I religiously watched growing up.
Sixth Floor, Booth 907
Dragonfly Fibers has been dyeing high-quality yarn and fiber in suburban Washington, DC, for more than 10 years. We're known for our vivid and saturated tonal and variegated colorways, and we have gorgeous neutrals, too! Come see all that's new and beautiful in booths 807 and 809!
Pictured above is the Plumpy Shawl by Andrea Mowry. Sample shown in the Starry Night colorway of our Traveller Fade Color Pack (plus one additional skein of Starry Night). Four other fade packs are available — Fade to Back, Reds to Browns, Blues to Browns and Blues.
Nightshift shawl by Andrea Mowry. Sample is shown in one of two kit options of six two-ounce skeins of Traveller: Jocelyn, Mossy Glen, Into the Woods, Hot Pants, Arya, and Limelight The other kit is Cheshire Cat, Airport Hot Sauce, Titania, That Ol' Chestnut, Silver Fox, Velvet Underground.
Garment District, our show exclusive colorway! Shown in Djinni, our fingering weight MCN. It will be available in multiple bases but supplies are limited.
Fifth Floor, Booth 118
Most of my dying revolves around themes. At VKL in NY I will have Disney Men, Disney Villains as well as a few added colorways to series I currently have, plus many new semisolids in fingering/DK and worsted weights.
Pictured are Pittsburgh Steelers, Cast Iron, Hyacinth and Beth.
Fifth Floor, Booth 100
Katrinkles makes buttons, wearable accessories, tools for fiber artists and custom products out of durable wood. Each piece is lovingly designed, carefully crafted and hand-finished in our Providence, RI, studio.
[Editor's note: You can preorder some special VKL items (not the stitch marker pins, unfortunately) to pick up at the show on the Katrinkles website through the end of the day today.]
Fifth Floor, Booth 117
Kim Dyes Yarn is an indie dyer from the beautiful state of Virginia. Kim offers hand-dyed luxury yarn and spinning fibers in unique colorways.
Fifth Floor, Booth 541
Lady Dye Yarns has specialized in hand-dyed, vibrant and saturated yarns since 2010. I believe in promoting a more diverse crafting community through my actions and building collaborations with others.
In addition to tons of new colorways, I will have my limited-edition Fingering Merino Cashmere yarn just for VKL in my Black Panther colorway and in all of my new colorways. Also in my booth will be Alex Creates, Crochet Luna, Fully Spun and Alasdair Post-Quinn, all representing diverse backgrounds culturally, but also in their work.
Fifth Floor, Booth 119
Aimee and Brian are the dyers of Little Fox Yarn, based just outside of Richmond, Virginia. Their beautiful, wearable colorways are inspired by the Blue Ridge Mountains where Aimee grew up.
Fifth Floor, Booths 600-610
Magpie Fibers specializes in hand-dyed luxury yarns, saturated colors and distinctive accessories.
Fifth Floor, Booth 418
MollyGirl Yarn is a rockin' yarn company featuring exclusive yarns inspired by music! Their Vogue lineup includes 2 new yarns, tons of new mini bundles, new enamel pins featuring art from designer Xandy Peters and signups for Volume II of the Spotlight Club!
Sixth Floor, Booth 914
This is mYak: Born in Tibet, Crafted in Italy.
A natural fiber unique in the world.
Born in one of the world's most extreme locations.
Made with Italian artisanal quality.
At VKL we are going to present our line of Baby Yak and Tibetan Cashmere in both kits and single skeins with the beautiful designs created for us by incredibly talented designers.
Fifth Floor, Booth 408
We're Katie and Kara of Nice and Knit — sisters, best friends, knitters and color enthusiasts. We work hard to bring you the very best of what we love, from our creative patterns to our quality hand-dyed yarns. We love working together in our light-filled Connecticut studio, dyeing yarn, shipping orders, and brainstorming our next big idea. Thank you for being a part of our dream!
We'll be featuring an VKL color way called Times Square and custom City Lights bags from Sandy by the Lakeside.
Fifth Floor, Booth 412
One Geek to Craft Them All makes stitch markers, notions pouches, project bags, and jewelry for all crafters. Inspired by music, movies, books, history, and more I bring a nerdy flair to all I make. My designs are to inspire everyone's inner geek.
[Editor's note: Marsha will have exclusive Indie Untangled yarn ball earrings in her booth!]
Sixth Floor, Booth 1015
Ritual Dyes is an independent Dyehouse out of Portland, Oregon, that focuses on wearable, subtle colorways of hand-dyed yarn. We also offer a line of modern project bags including the Knitter's Backpack.
We will be bringing along kits for Caitlin Hunter's Alyeska pattern, kits from our new, sign-specific Zodiac Collection, an exciting version of our popular Knitter's Backpack – the Knitter's Sling Bag (in leather!) as well as our new American Rambouillet line.
Sixth Floor, Booth 1107
Shelli designs enamel pins, apparel, and other accessories for fiber lovers. She'll be releasing an exclusive VKL design (pizza!) on a variety of items along with some collaborations by Tuft Woolens, Havirland, Katrinkles and Bunny & Toot.
Fifth Floor, Booth 116
Wolle's Yarn Creations — the original gradients. Our cotton and cotton/silk yarns are skin-soft luxury, feeling is believing.
Sixth Floor, Booths 711-719
Based in Rochester, N.Y., Yarn Culture brings yarn, inspiration and designers from around the corner and around the world.
Meet Åsa Tricosa and see her beautiful collection of Ziggerats Sweaters.
Participate in a VKL-NYC exclusive preview of Rosy Green Wool's new Manx Merino Fine collection and be the first to see Melanie Berg's newest shawl design, Glückauf.
We've got a gorgeous selection of garments and yarn from Rochester, N.Y.'s own Renee from Spun Right Round, including the exclusive colorway ROC City Blooms.
Fifth Floor, Booth 108
Youghiogheny Yarns, pronounced "yock-i-gainey," is the creation of husband and wife team, Todd & Keri Fosbrink. Color is everywhere in the Youghiogheny River Valley no matter the season, and Youghiogheny Yarns wants to help you bring some of that color into your life and projects.
Pictured above are their colorways Blueberry Lemonade, Coral Cove, Chinese Fireball and a preview of their 2019 show exclusive, I Beg Your Pardon!
Fifth Floor, Booth 421
Zen Yarn Garden's dye studio is based is Ontario, Canada. Our yarn is special. We take pride in providing the most luxurious fibres and dyeing them in a range of beautiful semi-solid, splatter and one-of-a-kind colourways. We know every yarn you buy is destined to have many hours in your stash and on your needles. With each skein we strive to reflect the same passion that you have for your projects and craft in our yarns.
We will have a myriad of colourways available in several bases and will be offering free patterns with yarn purchases. Be sure to check out our Lux Blanx which knit up and express colours in unique ways!
In what has become an Indie Untangled holiday tradition, I am thanking the knitters who invite me into their inboxes each week with a special holiday giveaway.
For the 2018 Newsletters to Santa and Hanukah Harry giveaway, I've gathered together some amazing prizes from several artisans, some who were new to the Indie Untangled community this year and others who are favorites, and doing a string of giveaways (eight plus one) starting this Monday and running through Christmas Day.
Here are the rules: Sign up for the Indie Untangled newsletter by 9 p.m. EST and you will be eligible to win that day's prize (anyone already on the mailing list is entered to win). After 9 p.m., I'll pick a winner via random number generator and send out an email. The winner will arrange shipment with the dyer/artisan. The grand prize will be a very special package of yarn and knitting stocking stuffers that I will ship out to the winner.
PLEASE NOTE: Winners must respond within 48 hours of when the notification email is sent to claim the prize. If not, another winner will be selected.
Here's the schedule:
December 17: A skein of the winner's choice from McMullin Fiber Co.
Congrats to winner Donna!
December 18: A skein of the winner's choice from Hazel Knits
Congrats to winner Kathy!
December 19: A sterling silver double sided "Yarn Life" and stockinette stitch motif necklace from Porterness Studio
Congrats to winner Janet!
December 20: A skein of the winner's choice from Murky Depths Dyeworks
Congrats to winner Natalie!
December 21: A skein of the winner's choice from October House Fiber Arts
Congrats to winner Cheryl!
December 22: Two skeins of yarn and a project bag from Lady Dye Yarns
Congrats to winner Rhianna!
December 23: The winner helps hellomello handspun create a custom color.
December 24: A Birds of a Feather kit from Junkyarn
Congrats to winner Shelagh!
December 25: A project bag from Woodsy and Wild, yarn from Magpie Fibers, pins from Shelli Can, project bag tags from Katrinkles and a Stash Rabbit pin from Indie Untangled.
One other winner will also receive a set of four OOAK skeins of DK-weight Selene from Spirit Trail Fiberworks and swag from this year's Indie Untangled Rhinebeck Trunk Show.
Congrats to winners Jody and Patricia!