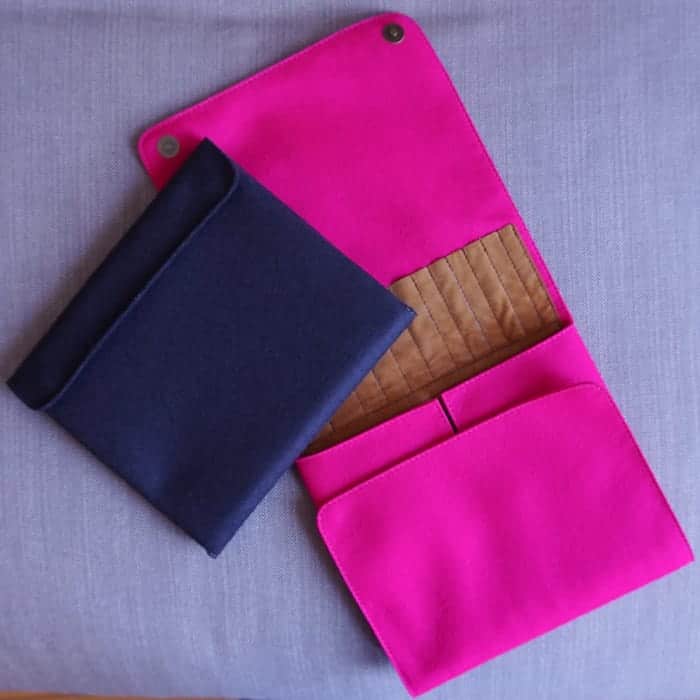 Stephanie Earp, a knitwear designer from Montreal, designed the ultimate interchangeable needle case. Handmade in small batches of 100% wool felt, the case has slots for up to 24 pairs of interchangeable needle tips up to 10mm in size — and they won't budge from their suede pouches, no matter how much you shake them — four pockets for cables and a large zippered pocket for notions. The cherry on the stitcher's sundae is a magnetized center panel to hold stitch markers, scissors and tapestry needles. 
Each confined to their homes in coastal Italy, Stefania and Giulia of Lanivendole recently embarked on some "blind dyeing" and created three new colorways in their respective studios. The result is six subtly variegated shades that go together, and will be available in a shop update next Thursday, April 30, along with yarn for the Udo sweater by Orlane Sucche. The sweater was planned for an in-person release at the Knit Eat festival in Lyon, but will debut the day of the update on Ravelry.
Designer Mary Annarella summed up her thoughts about 2020 with a new cabled hat pattern featuring a halo of fuzzy mohair to soften the blow. Omgwtf2020 is 30% off through April 28, no code needed.
Debbie of Murky Depths Dyeworks doesn't have anything against neon speckles, but her fades are of the — surprise — murky variety. Her new fade sets use Deep Sock or Harbour Singles Fingering, with a total of 1600 yards per set. And until life gets back to some degree of normalcy, all items in her Etsy shop remain 15% off using code CXL15 at checkout.
Whether you're in the mood for a mindless or complex project, all of Sara of La Cave à Laine's patterns, from endless, comforting garter to challenging brioche, are buy one get one free, no code needed.
7th Floor Yarn introduced a DK-weight 50/50 cotton/Merino blend that's perfect for spring and summer projects.
Lena of Softyarn Design has released her size-inclusive Emmerly Sweater, and you can get 30% off the pattern through this Monday with the code springknitting on Ravelry and Etsy.
ReVe Design Co has created heel and toe-less socks for yoga, pilates and dance.