Maryland Sheep and Wool Festival seems to have snuck up on me this year. While I don't have a stashing plan in mind (which probably means I'll do more damage than I planned), I'm looking forward to spending time with beloved fiber friends and meeting some of my favorite indie business owners.
To help you plan, here's a roundup of the Indie Untangled vendors at both the pop-up at The Knot House and the Howard County Fairgrounds, and a peek at just some of the goodies they'll be bringing.
THE KNOT HOUSE INDIE POP-UP
This is the fifth annual indie pop-up that Cathy and Heather of The Knot House are throwing. In the spirit of the Indie Untangled Rhinebeck Trunk Show, it brings together a collection of dyers and makers from around North America. Unlike the IU Rhinebeck show, it runs all weekend, with a preview party on Friday night from 5 to 9 p.m.
Dragon Hoard Yarn is a one woman show run by Trysten out of Utah. Her style is inspired by pop culture, geeky fandoms, and witchy themes.
I'll be bringing the entire Outlander collection, including:
Lallybroch (green), Red Jamie (Orange), Clan Fraser (blue), and Je Suis Prest. (Blue and brown). I'll also be giving a sneak peek at a new design coming out in July! The Moondrip Summer Tee will be showcased, and I will be there to help people create kits!
The Farmer's Daughter Fibers specializes in hand-dyed yarns inspired by dyer Candice's cultural heritage and Montana roots.
Aimee & Brian are the dyers of Little Fox Yarn, based just outside of Richmond, Virginia. Their subtle, wearable colorways are inspired by the Blue Ridge Mountains where Aimee grew up.
We will be at the Knot House Indie Dyer Pop Up this weekend. We will have all of our usual lineup of tonal yarns including our new Vixen Lace base.
Also at The Knot House will be ShelliCan and Nice & Knit.
THE FESTIVAL
See the festival map here.
Main Exhibition Hall, Booth C28
Bare Naked Wools offers natural, dye-free, artisanal yarns in single breed and wool blends, wool and alpaca blends, and unique luxury blends.
• The hat is the "Happy Dog Cap" which we will be selling at MDSW as a kit with Betty King Natural Dyes Merino DK.
• The pullover sweater is "Multigrain"
• The lace shawl is "Harrier"
• The yarn is Better Breakfast DK, a luxury alpaca blend
Outside North, Booth N1
Bijou Basin Ranch provides sustainably harvested, high quality exotic yarns & fibers dyed by various indie dyers across the country. After 15 years of merchandising yarn, BBR will be closing its doors by the end of the year, so don't miss your chance to see, feel and purchase at our last MDS&W Festival!
Pictured clockwise from the top left are:
Solids by MJ Yarns on Xanadu, 100% Mongolian Cashmere
The Valkyries Series by MJ Yarns on Gobi, 35/65 baby camel/Mulberry silk
The Mariposa Series by Colorful Eclectic on Himalayan Summit, 50/50 yak/Merino — brand new at the show!
Various colors by ModeKnit Yarns on Tibetan Dream, 85/15 yak/nylon
Outside Lower Corral, Booth LC9  
Dragonfly Fibers has been dyeing high-quality yarn and fiber in suburban Washington, DC, for more than ten years. We're known for our vivid and saturated tonal and variegated colorways, and we have gorgeous neutrals, too! Come see all that's new and beautiful in the Lower Outside Corral!
Our brand-new tote bag is free to the first 25 customers both days and all purchases over $125. Available for purchase for $12.
Our newest yarn, Faerie, an ethereal mohair-silk blend, is perfect for warm-weather knitting. The Jocelyn colorway (shown in Pixie, also in Jocelyn) makes for a beautiful spring Elton, by Joji Locatelli.
Our show exclusive colorway, Carroll Creek Park's bright and happy colors make it perfect for spring! It will be available on multiple bases. Supplies are limited, so be sure to stop by early in the morning for the best selection.
We will also have three great kits for the brand-new Casapinka design, Magical Thinking, which made its debut last Saturday during LYS Day.
Barn 5, Booth 14
We specialize in British and U.S. rare and heritage breed sheep. We gain our inspiration from the sheep themselves and the beautiful countryside. For those participating in the Shave Em to Save Em and the 52 weeks of sheep programs we will have both natural spinning fibers and yarns produced from the sheep here at the farm.
Main Exhibition Hall, Booth B13
Knittyandcolor specializes in eye popping bright, unique pastel, and fun speckled yarn and fiber. Her husband, Subterranean Woodworks specializes in finely crafted, exotic wood and hand dyed Turkish spindles.
Outside Lower Corral, Booth LC18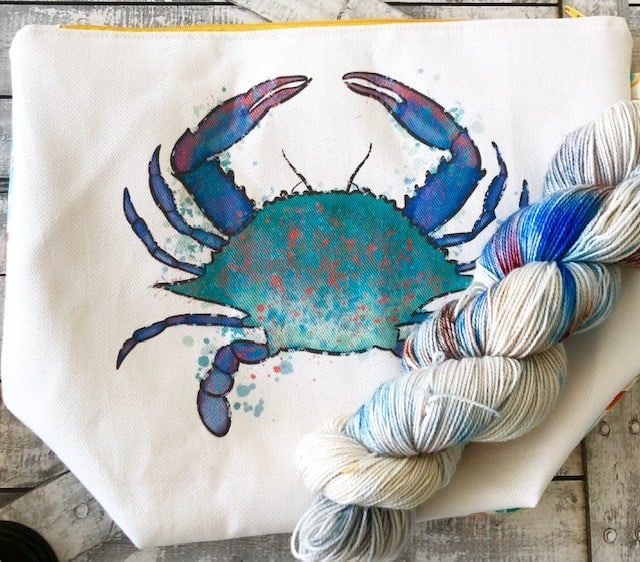 Created by sisters, Helen and Mary Beth, Toad Hollow makes project bags and hand dyed yarn. Our products all have a whimsical sense usually based on books and fandoms we love. Limited quantities of our Maryland 2019 color, "Crab Pickin," will be available this weekend.
Main Exhibition Hall, Booth B2
Wolle's Yarn Creations will be at MDSW for the third year and we are bringing our amazingly soft and deluxe Cotton/Silk yarns as well as our new Cotton/Bamboo yarns. Also, new this year: DK Cotton yarns, perfect for all your summer tops. Stop by and touch our yarns — feeling is believing.
Also at the festival will be:
Backyard Fiberworks, Main Exhibition Hall, Booth C4 
Crafty Flutterby Creations, Barn 3, Booth 5
Into the Whirled, Main Exhibition Hall, Booth B16
Middle Brook Fiberworks, Main Exhibition Hall, Both B26
It's that time of year again, when Times Square gets overtaken by knitters on a mission, dodging tourists and glaring at the Starbucks line, hoping to make it to their 9 a.m. brioche class on time — or just to the Marketplace to shop for yarn.
The Marketplace at this year's VKL NYC — taking place at the Marriott Marquis in Times Square from January 25-27 — looks to be the busiest it's ever been. To help you prepare, I've put together a guide to the Indie Untangled vendors that you need to visit. Each vendor has introduced themselves and is offering a sneak peek at some of the yarns and products they'll be bringing.
Will you be there this weekend (and on the subway Saturday)?
Fifth Floor, Booths 314 & 316
Asylum Fibers focuses on in-your-face, vibrant tones and one-of-a-kind colorways on over 15 bases, both versatile and luxurious. The brand name was thought up in order to incorporate the playfulness of horror flicks while leveraging the other meaning of the word "asylum," acknowledging that crafting is such a wonderful, meaningful form of therapy and comfort.
Stop by to "embrace your crazy" with a photo shoot and check out some new 2019 colorways. Available will be an event colorway called Sidewalk Reflections, a new base called Brainless Bulky and The Brainless Beanie, a free pattern corresponding with the release of this new base, and a 2019 mini set featuring new colors, including I'm Alive, inspired by the Pantone color of the year.
Fifth Floor, Booth 321
I dye everything out of my home's basement in New Jersey and I'm inspired by all things cute and pink.
I'll be bringing more than 20 new colorways, some of which are one-of-a-kinds and will never be repeated again. A ton of new colors are inspired by Sailor Moon, which is a show I religiously watched growing up.
Sixth Floor, Booth 907
Dragonfly Fibers has been dyeing high-quality yarn and fiber in suburban Washington, DC, for more than 10 years. We're known for our vivid and saturated tonal and variegated colorways, and we have gorgeous neutrals, too! Come see all that's new and beautiful in booths 807 and 809!
Pictured above is the Plumpy Shawl by Andrea Mowry. Sample shown in the Starry Night colorway of our Traveller Fade Color Pack (plus one additional skein of Starry Night). Four other fade packs are available — Fade to Back, Reds to Browns, Blues to Browns and Blues.
Nightshift shawl by Andrea Mowry. Sample is shown in one of two kit options of six two-ounce skeins of Traveller: Jocelyn, Mossy Glen, Into the Woods, Hot Pants, Arya, and Limelight The other kit is Cheshire Cat, Airport Hot Sauce, Titania, That Ol' Chestnut, Silver Fox, Velvet Underground.
Garment District, our show exclusive colorway! Shown in Djinni, our fingering weight MCN. It will be available in multiple bases but supplies are limited.
Fifth Floor, Booth 118
Most of my dying revolves around themes. At VKL in NY I will have Disney Men, Disney Villains as well as a few added colorways to series I currently have, plus many new semisolids in fingering/DK and worsted weights.
Pictured are Pittsburgh Steelers, Cast Iron, Hyacinth and Beth.
Fifth Floor, Booth 100
Katrinkles makes buttons, wearable accessories, tools for fiber artists and custom products out of durable wood. Each piece is lovingly designed, carefully crafted and hand-finished in our Providence, RI, studio.
[Editor's note: You can preorder some special VKL items (not the stitch marker pins, unfortunately) to pick up at the show on the Katrinkles website through the end of the day today.]
Fifth Floor, Booth 117
Kim Dyes Yarn is an indie dyer from the beautiful state of Virginia. Kim offers hand-dyed luxury yarn and spinning fibers in unique colorways.
Fifth Floor, Booth 541
Lady Dye Yarns has specialized in hand-dyed, vibrant and saturated yarns since 2010. I believe in promoting a more diverse crafting community through my actions and building collaborations with others.
In addition to tons of new colorways, I will have my limited-edition Fingering Merino Cashmere yarn just for VKL in my Black Panther colorway and in all of my new colorways. Also in my booth will be Alex Creates, Crochet Luna, Fully Spun and Alasdair Post-Quinn, all representing diverse backgrounds culturally, but also in their work.
Fifth Floor, Booth 119
Aimee and Brian are the dyers of Little Fox Yarn, based just outside of Richmond, Virginia. Their beautiful, wearable colorways are inspired by the Blue Ridge Mountains where Aimee grew up.
Fifth Floor, Booths 600-610
Magpie Fibers specializes in hand-dyed luxury yarns, saturated colors and distinctive accessories.
Fifth Floor, Booth 418
MollyGirl Yarn is a rockin' yarn company featuring exclusive yarns inspired by music! Their Vogue lineup includes 2 new yarns, tons of new mini bundles, new enamel pins featuring art from designer Xandy Peters and signups for Volume II of the Spotlight Club!
Sixth Floor, Booth 914
This is mYak: Born in Tibet, Crafted in Italy.
A natural fiber unique in the world.
Born in one of the world's most extreme locations.
Made with Italian artisanal quality.
At VKL we are going to present our line of Baby Yak and Tibetan Cashmere in both kits and single skeins with the beautiful designs created for us by incredibly talented designers.
Fifth Floor, Booth 408
We're Katie and Kara of Nice and Knit — sisters, best friends, knitters and color enthusiasts. We work hard to bring you the very best of what we love, from our creative patterns to our quality hand-dyed yarns. We love working together in our light-filled Connecticut studio, dyeing yarn, shipping orders, and brainstorming our next big idea. Thank you for being a part of our dream!
We'll be featuring an VKL color way called Times Square and custom City Lights bags from Sandy by the Lakeside.
Fifth Floor, Booth 412
One Geek to Craft Them All makes stitch markers, notions pouches, project bags, and jewelry for all crafters. Inspired by music, movies, books, history, and more I bring a nerdy flair to all I make. My designs are to inspire everyone's inner geek.
[Editor's note: Marsha will have exclusive Indie Untangled yarn ball earrings in her booth!]
Sixth Floor, Booth 1015
Ritual Dyes is an independent Dyehouse out of Portland, Oregon, that focuses on wearable, subtle colorways of hand-dyed yarn. We also offer a line of modern project bags including the Knitter's Backpack.
We will be bringing along kits for Caitlin Hunter's Alyeska pattern, kits from our new, sign-specific Zodiac Collection, an exciting version of our popular Knitter's Backpack – the Knitter's Sling Bag (in leather!) as well as our new American Rambouillet line.
Sixth Floor, Booth 1107
Shelli designs enamel pins, apparel, and other accessories for fiber lovers. She'll be releasing an exclusive VKL design (pizza!) on a variety of items along with some collaborations by Tuft Woolens, Havirland, Katrinkles and Bunny & Toot.
Fifth Floor, Booth 116
Wolle's Yarn Creations — the original gradients. Our cotton and cotton/silk yarns are skin-soft luxury, feeling is believing.
Sixth Floor, Booths 711-719
Based in Rochester, N.Y., Yarn Culture brings yarn, inspiration and designers from around the corner and around the world.
Meet Åsa Tricosa and see her beautiful collection of Ziggerats Sweaters.
Participate in a VKL-NYC exclusive preview of Rosy Green Wool's new Manx Merino Fine collection and be the first to see Melanie Berg's newest shawl design, Glückauf.
We've got a gorgeous selection of garments and yarn from Rochester, N.Y.'s own Renee from Spun Right Round, including the exclusive colorway ROC City Blooms.
Fifth Floor, Booth 108
Youghiogheny Yarns, pronounced "yock-i-gainey," is the creation of husband and wife team, Todd & Keri Fosbrink. Color is everywhere in the Youghiogheny River Valley no matter the season, and Youghiogheny Yarns wants to help you bring some of that color into your life and projects.
Pictured above are their colorways Blueberry Lemonade, Coral Cove, Chinese Fireball and a preview of their 2019 show exclusive, I Beg Your Pardon!
Fifth Floor, Booth 421
Zen Yarn Garden's dye studio is based is Ontario, Canada. Our yarn is special. We take pride in providing the most luxurious fibres and dyeing them in a range of beautiful semi-solid, splatter and one-of-a-kind colourways. We know every yarn you buy is destined to have many hours in your stash and on your needles. With each skein we strive to reflect the same passion that you have for your projects and craft in our yarns.
We will have a myriad of colourways available in several bases and will be offering free patterns with yarn purchases. Be sure to check out our Lux Blanx which knit up and express colours in unique ways!
I've been attending Vogue Knitting Live in NYC regularly for the last several years, and each year I've seen more and more indie dyers and makers in the marketplace. VKL NYC 2018 is shaping up to be one of the indie-est years in recent memory, with a huge selection of dyers and makers, many of them local, scattered over the two floors at the Marriott Marquis in Times Square from January 12-14.
To help prepare you for what I know will be a whirlwind weekend, I decided to create a special shopping guide to some of the Indie Untangled vendors at the show, with a sneak peek at the yarns and products they'll be bringing.
I'll be around all three days, taking classes with Melanie Berg, Clara Parkes, and Andrea Mowry, and doing some damage in the marketplace. If you see me, definitely come by and say Hi!
Sixth Floor, Booth 907
Alex is a NYC native, born and raised in Harlem. He taught himself to crochet at age 13 and opened his Etsy shop in 2011, and is known for his candy-colored gradient yarn.
Pictured clockwise from the top left are Ombre Sock yarn in Strawberry Lemonade, MCN in Disco Heaven, Ombre Targhee in Blue Bombsicle, and Single Ply Merino in Pennies from Heaven.
Fifth Floor, Booths 314 & 316
Alice, who is based in Maryland, is not only bringing her popular semisolid and speckled colorways, but is debuting the first installment of the Knit Like a Local series she has collaborated on with designer Kathleen Dames. I Knit NY includes 10 patterns by a team of local designers — including Brittney Bailey, Kirsten Kapur, Xandy Peters, and Lars Rains, along with Kathleen — inspired by New York City landmarks like Rockefeller Center and the clock at Grand Central Terminal, all made with Alice's yarn. The book also includes a yarn store guide written by yours truly and an essay by Kay Gardiner of Mason Dixon Knitting.
In the first image, pictured clockwise from the top left are Backyard Fiberworks Sock in Urchin, Stormcloud, the Spiced Cider mini skein set, and Mallow.
In the third image, pictured clockwise from the top left are Xandy Peters' Rockefellar Center, Kathleen Dames' 42nd & Lex, Kirsten Kapur's Jane Jacobs, and Kathleen's Opal Clock.
Sixth Floor, Booth 910, 912 & 914
Also from Maryland, Kate and her crew are VKL veterans, and always bring a huge selection of colorful yarns to their massive booth.
Pictured above is their exclusive VKL colorway, Twilight Skate, along with, from top to bottom, the colorways Jocelyn, Springtime In Washington, and Denaili.
Fifth Floor, Booth 102
Rebecca launched her business after taking a dyeing class with Felcia Lo at last year's VKL. This fast learner creates gorgeous colorways from a studio in northern Connecticut, housed in a factory that once manufactured safety fuses for mining.
Pictured clockwise from top left are Wintergreen, Straw, and Moorland and Stone Walls on Fuse Fingering and Pearls on Fuse Merino Singles. Rebecca will have a sample of Caitlyn Hunter's Zweig sweater that I can't wait to see.
Sixth Floor, Booth 1103
Kemper's hand-dyed yarns are inspired by inspiring women, from actresses to activists.
Pictured above is Andrea Mowry's Comfort Fade knit with Junkyarn DK (100% Superwash Merino) in the colorways Fleur, Lara, Dolly, and Diana. The top photo is of Holly Golightly, a VKL 2018 exclusive, and below that is the colorway Amilyn.
Fifth Floor, Booths 600, 604, 606 & 610
Not only does Dami, another dyer from Maryland, create lovely colorways, but she also collaborates with other popular yarn companies, including Spincycle Yarns from Washington State.
Pictured clockwise from the top left is 5 Pointz in Swanky DK, Paris Train and London Rain in Swanky Sock, the Stoirm cap in Swanky Sock Castaway and Spincycle Dyed in the Wool Family Jewels, and the Gailleann sweater in Domestic Worsted. Christina Danaee will be debuting both designs in the Magpie booth.
Fifth Floor, Booth 514
Based in New Jersey, Angela offers both colors and bases that take cues from pop and rock music.
Pictured clockwise from top left are Walk This Way, Rolling in the Deep, A Thousand Years, and Electric Love.
Fifth Floor, Booth 117
Marsha, who lives just a few blocks away from me in Brooklyn, crafts fun stitch markers with a geeky, pop culture spin (think Dr. Who and Harry Potter).
The above sets, which include a VKL exclusive, are just a small sampling of what she'll be bringing. Marsha is sharing a booth with one of my favorite NYC LYSes, Woolyn, which will have store exclusive colorways from Asylum Fibers, MollyGirl and more.
Sixth Floor, Booth 1103
If you collect (or want to start to collect) knitting-related enamel pins, you need at least one from Shelli. Based in Alexandria, Virginia, Shelli also designs creative knitting-related accessories, like the gift tags, mug and t-shirt pictured above (I've already claimed a shirt in XS!).
Fifth Floor, Booth 114
Pronounced yock-i-gainey (think "yock" like "sock"), this team from the Youghiogheny River valley in Pennsylvania creates vibrant colorways.
Pictured clockwise from top left are Forest Sprite on Wooly Yak, Spilled Wine on Highlands Festival, Warm Honey on Silky Yak Singles, and Cloudy on Somerset Silk.
This list will be updated with new deals throughout the weekend.
With all the amazing Black Friday/Small Business Saturday/Cyber Monday yarny deals being posted to the Indie Untangled marketplace, I didn't want to be left out! I'm offering 15% off all in-stock yarn from The Farmer's Daughter Fibers (including new Squish Bulky Superwash Merino for your holiday gift needs!) and Dark Harbour Yarn, as well as Stash Indie enamel pins and tote bags in the post-Rhinebeck pop-up, through Monday with the code INDIEFRIDAY. (Offer excludes La Bien Aimée preorders.)
Spirit trail is offering free U.S. shipping and discounted international shipping through Monday using the code CYBERMONDAY.
Everything in the Invictus Yarns shop, including new confetti skeins, is 15% off, no coupon code needed, through Tuesday. The sale will be valid for purchases over $20.
All yarns from McMullin Fiber Co. are 20% off through Tuesday. In addition, clubs are 10% off. PLUS, there's a clearance section of discontinued bases and colorways with hefty savings of 40% off the regular price.
Bijou Basin's Black Friday weekend sale reminds me of those Crazy Eddie commercials — INSANE. Not only is there free U.S. shipping, but they're giving away free yarn with certain purchases.
Every item you purchase from Never Enough Thyme during the month of November will enter you into a giveaway for a set of Christmas mini skeins, an adorable project bag and some extra goodies.
Sarah of One Hand in the Dyepot is offering 15% off all full-sized skeins, no coupon needed, through Monday. Most of Sarah's yarns are dyed as single skeins and therefore not repeatable. Perfect excuse!
Robynn of Studio Miranda is participating in the Indie Design Giftalong, so her patterns are 25% off on Ravelry. Click to learn more about this fun event!
Susan of With Pointed Sticks is having her annual Black Friday/Cyber Monday sale. Everything in the shop is 25% off through Monday, no coupon necessary.
Get free shipping from Marianated Yarns for Black Friday, Small Business Saturday and Cyber Monday with coupon code GIVETHX. Use it for Knitmas Kits, Christmas colors or super jumbo bulky yarn for those last-minute gifts.
Lisa The Knitting Artist is offering 20% off with code SBSSALE starting Saturday, November 25, and running through midnight Central time on Tuesday. You'll also receive a free watercolor greeting card, handmade and handpicked by Lisa.
Here's a sale and a very cool New Dyer Alert. Brianne and Maureen of I Would Dye 4U create yarn inspired by the best music. Look for colorways such as True Colors and Take On Me on bases such as New Wave and Hair Metal. They're also offering 20% off all ready to ship yarns in her Etsy shop on Monday!
It is stall fall, despite the music playing way too early, everywhere. Casapinka's Crunching Leaves Cowl uses two colors of bulky yarn to create a woven effect. It's a perfect addition to your fall (and, yes, winter) outfit — and a perfect quick gift.
Kim Dyes Yarn has teamed up with this Brew City Yarns to create a tribute to the Republic of Gilead. The 10 Handmaid's Tale colorways go on sale tomorrow for Small Business Saturday, five at Kim's website and five via Brew City Yarns. Limited quantities of mini skein sets of all 10 colorways will be available for purchase at both websites starting at 8 a.m. Eastern Saturday.
Katrina and her crew are offering 10% off yarn purchases and free shipping for orders over $100 through Monday, November 27 with the code GobbleGobble. 

Everything in the JuneBug Fibers shop is 20% off through Monday.
Lavender Lune Yarn Co. is offering 20% off in her shop through Tuesday with code BLACKFRIDAY17. Indie Untangled readers get first dibs before Saturday!
Everything at in the Stitchjones Etsy shop is 25% off with coupon code HELLOFALL.
Little Fox Yarn is offering 15% off with the code THANKFUL15 through Tuesday.
Anne of Middle Brook Fiberworks is debuting her Vintage No. 3 today! The yarn, which is a blend of fleeces from her Shetland flock — natural brown from Roobie and grey from Poppy and Quin — prime alpaca and cultivated silk, will be available at the Indie Untangled trunk show and online at 5 p.m. Eastern time.
Preorders for Carrie Sundra's SkeinTwister opened this week, and even if you're not a dyer, you can still join in the fun of the launch. Carrie, who is also a natural dyer through her company Alpenglow Yarn, has collaborated with Brooke of Sincere Sheep and created AlpenSheep. Just for the launch, they'll both be dyeing Brooke's Cormo Sport yarn, with beautifully twisted skeins available for sale in multiple colors. If you're trying to cut down on the yarn buying, especially considering what weekend it is, they also have some fun gear, including rocks glasses, coffee mugs and T-shirts, featuring Pirate Red, the SkeinTwister's sassy mascot. 
If you're going to Rhinebeck this weekend, make sure to stop by the Spirit Trail Fiberworks booth in Building A to see tons of new colors and a few new bases.
Laura of Slipped Stitch Studios has a whole bunch of goodies for sale, including bags with limited edition Frida Kahlo, cactus and unicorn fabrics. Today, at 9 a.m. Pacific time, she'll release Hocus Pocus extras, part of a tribute to the awesome Halloween movie. Then on Wednesday, the Slipped Stitch Studios Facebook page will hold a Facebook Live flash sale. And, last but not least, next Friday is the release of the October Bag of the Month, inspired by Pinky and the Brain.
Grab Eyelet of the Tiger, BBR's new project kit for their newest yarn, Himalayan Summit. The lacy cowl is perfect for variegated colorways, like Old Fashioned Villian by Modeknit Yarn, pictured above.
Julia of Pandia's Jewels has been busy dyeing new tonal and speckled colorways on several of her fingering weight bases that are perfect for your next fade. There are also some OOAK colorways sprinkled in.
If you're going to Indie Untangled tonight, there will be a limited number of kits with both of Jill Draper's exclusive colorways for the third installment of Knitting Our National Parks, along with a code to download designer Kirsten Kapur's Joshua Tree Cowl. Both are inspired by sunset at Joshua Tree National Park in Southern California. If you can't make it, the yarn will be available to preorder for a few more weeks (the pattern is for sale on Ravelry).
Pam Sluter's latest design, the Haygarden shawl, was created in collaboration with Hampden Hills Alpacas. The sample will be on display this weekend at Rhinebeck in Building 39, booth 9.
IU newcomer Big & Bitty Bags has new bucket bags with a drawstring closure.
This is the ninth in a series of blog posts featuring the fabulous sponsors of the 2017 Rhinebeck Trunk Show.
Time sure flies when you're having fun! We are proud and delighted to be the Featured Sponsor for the Indie-Untangled Trunk show for the third year! Sharing yarns we love with knitters is one of the very best parts of what we do everyday. The Indie Untangled Trunk Show is a perfect time for us to showcase some of these yarns. This year we are hosting two lovely and different yarns – Rosy Green Wool and Crave Yarn.
ROSY GREEN WOOL is the result of a passionate desire to produce a hand knitting yarn that is certified organic through every aspect of production and product delivery. From the farms in Patagonia where the original fleece is sourced, through the spinning and dyeing process and to both distribution centers world wide, Rosy Green Wool meets the strict standards of the Global Organic Textile Standards (GOTS).
What does this mean to you? Rosy Green Wool is a yarn you can feel great about AND a yarn that feels great to knit, crochet and wear.
We'll have four yarn bases for you to try at the Indie Untangled Trunk Show:
We'll be featuring beautiful new patterns by German designers Melanie Berg, Jana Huck and Isabell Kraemer.
Find inspiration and yarn to create garments we know you'll love including: