Jennifer at Spirit Trail Fiberworks has been doing a fun collaboration with her newsletter subscribers in which she dyes a colorway inspired by a photo sent by one of her readers. February's colors — one main and two complementary — are inspired by a photo of a Blue Laced Red Wyandotte chicken. The yarn will be available to pre-order until February 19 at 5 p.m. Eastern Time.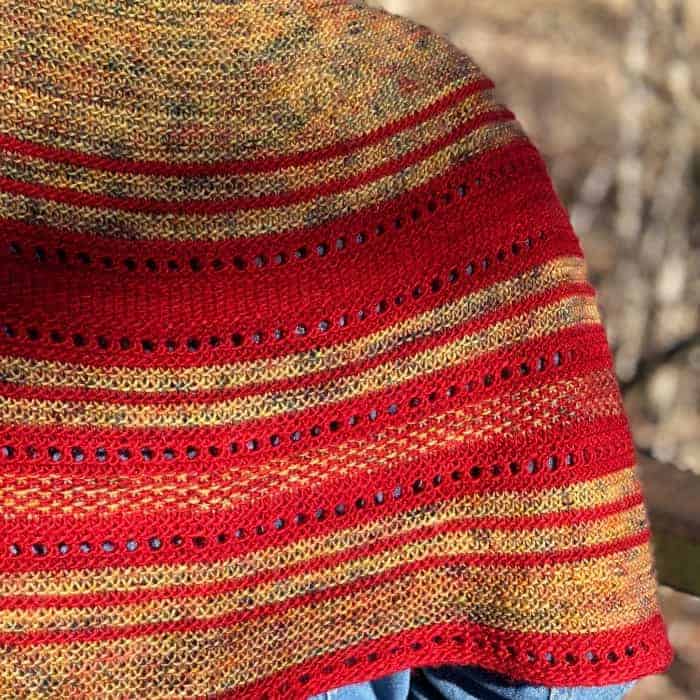 Jennifer has also created her latest design with TV knitting in mind. Craic — Irish Gaelic slang for "fun, a good time, a good conversation" — is a crescent-shaped, fingering-weight shawl with some garter, stripes and texture. It is knit with two 400-yard skeins of fingering, and you can even mix and match bases to get an even more interesting texture. Don't forget that you can receive 20% off your order of any in-stock yarn through February 28 with the code Indie. 
Marian has a new six-skein gradient set called Beekeeper in the colorways Beeswax, Protect the Pollinators, Honeycomb, Dumbledore, Queen Bee and Hive Mind. It is currently available in fingering weight on her Scrumptious HT base, which is 80% Superwash Merino, 10% Cashmere and 10% nylon in three sizes.
Cat Sandwich Fibers is having a shop update this Sunday, February 18, with lots of new OOAK colorways and new Cat Sandwich enamel pins.
Pam's latest design, Checkpoint, is a two-color sideways triangle with garter and what she promises to be easy intarsia.
Acadia Lights, the fifth colorway in the Knitting Our National Parks series by Asylum Fibers, is available to preorder through next Friday, February 23. You can get some ideas on what to make with either the Solitary Fingering or Golden Goose DK here.