In the winter of 2020, while browsing at Backstory Books & Yarn, a local used book and yarn store in Portland, Oregon, I stumble across a giant hank of pale gray yarn lurking on a top shelf. I immediately pick it up and trace the softness of the Targhee strands with my fingers. The label states it's from Blue Moon Fiber Arts, a local dyer I'm familiar with, and best of all, it's enough to make a sweater. A quick peek at the price tag makes me even more jubilant — I have enough store credit to cover the purchase, basically making it free.
I find the perfect pattern for the yarn, Myrna by Andi Satterlund. Vintage-inspired, it's cropped and form-fitting and will pair perfectly with dresses for the colder months. After almost a full episode of the BBC series "Pride and Prejudice" and numerous turns of the yarn winder, I have a ball of yarn the size of a newborn's head that is ready to be knit. Once I have knit a swatch to figure out what size I need to knit, I cast 70 loops on my needles and start the sweater. The yarn is lovely to work with. Soft and supple, each stitch is clearly defined like a spider's web in the rain.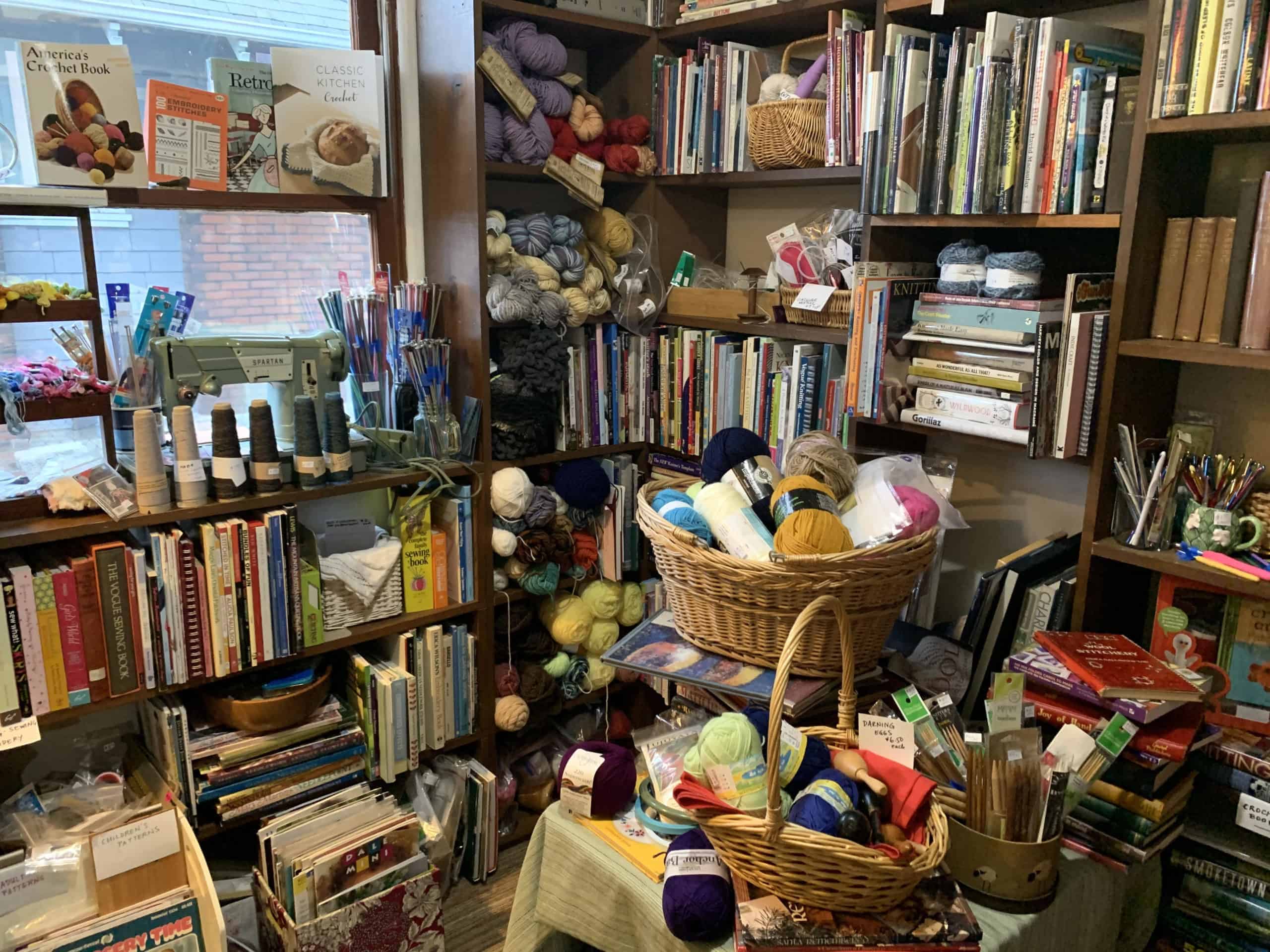 After fits and starts and several weeks, I'm almost done with the back of the sweater. I hold it up to myself and grimace. Even accounting for the stretch, it simply looks too small. I put it aside to deal with it later. Every knitter is familiar with "frogging," which means ripping back your work — you "rip it, rip it," like the "ribbit" of a frog. And as accustomed as we are to frogging, it does not mean we dislike it any less. You can just see weeks of your time circling down the drain. But knitting is a wonderful craft because, as in life, you can almost always go back and fix your mistakes (except for mohair, but we will not speak of that).
I could ignore the mistake and try to convince myself that, "Oh, it will fit with some stretching and blocking," but I know that I'll be even more devastated to have finished the entire sweater and not have it fit. I tear the stitches off the needles and begin the process of undoing the rows, leaving a wave of crinkled wool in my wake. Knitting teaches us about falling and getting back up minus the bruises and scrapes, leaving just the toll it takes on our patience.
Then COVID-19 strikes in March. One day my knitting friends and I are huddled together in a car for 10 hours as we zigzag across the Portland area to participate in the annual Rose City Yarn Crawl. Then the next week, seemingly everything is shut down. Instead of seeing each other as people, all we see is potential virus vectors. The days blur into one giant loop. We are stuck in Groundhog Day with only slight variations letting us know that time has passed.
I simply cannot see the point in continuing with the sweater. Where would I wear it? There is nowhere to go. And how would I wash it? A handknit wool sweater is not meant to hold up to endless rounds of sanitizing in hot water and bleach. And who would see it to admire the handiwork? My knitting friends are huddled in their houses and not stirring, not even for yarn. My sweater is at a standstill, the needles silent, much like the outer world. I have trouble looking at either.
"Put the sweater down and start another project," a friend advises. "Let it hibernate."
I take half her advice, but have trouble figuring out what to do next. Numerous articles and studies have listed the physical and mental health benefits of knitting — it induces an enhanced sense of calm, lowers your heart rate and blood pressure and boosts serotonin levels. That is great when all is said and done, but it does not solve the problem when you can't even get motivated to start that first stitch.
I'm doomscrolling when I get a text from a friend from high school.
"Sorry, this week has been kind of crazy. We actually just had our kid yesterday. Delivered a healthy baby girl. 8.6lb, 21 inches…"
Accompanying the text is a photo of my friend wearing a mask and cradling a newborn to her chest. I shoot off a text of congratulations and then immediately start browsing patterns for baby sweaters. I may not have anywhere to wear a handknit sweater, but this baby clearly needs a wool sweater to keep her warm. COVID-19 may reign, but new life continues. And human connections are so fraught right now, I grab at any strand that resembles hope.
I dive into my stash of yarn, stored under my bed in plastic bins, to discover that I have absolutely no yarn that is suitable. No sensible parent wants to carefully hand wash a delicate baby sweater every single time the baby throws up or drools. So, I make a rare trip into the outside world for yarn. I'm equipped with a handmade mask and hand sanitizer and mentally calculate how far 6 feet is from any person I see.
As I walk down Alberta Street, it's a ghost town. Dark windows look forlornly out onto the street, and passersby walk by briskly with their heads down and masks on. But when I step inside Close Knit to look for the right yarn, it's like stepping back into the past. Piles of brightly colored yarn dot the walls, and that slight hush you get from a space overly insulated with fiber prevails. Then I look again and see a jumbo-sized container of hand sanitizer and a giant sign at the entrance declaring the COVID-19 protocols. A plexiglass shield guards the staff from customers.
I debate between two vividly colored hanks of worsted and ultimately go with the coral. The shade, Malabrigo's Living Coral, evokes eye-popping colored macaroons, which is fitting as the sweater pattern, by The Noble Thread, is named French Macaroon and I met the new mom in our high school French class.
It's almost exactly the shade of the 2019 Pantone color of the year, living coral. The color was declared to be an "animating and life-affirming coral hue with a golden undertone that energizes and enlivens with a softer edge." Babies also affirm life while anchoring us to the future. Stepping back into time is a futile endeavor. But it reminds me that this too shall pass and one day we will gather together once more.
The bright coral stitches fly smoothly across the needles, leaving behind a gentle click-clack sound. It feels strangely foreign to be knitting again, but my hands remember what to do. Unlike the monotony of COVID-19 life, I can see visible progress as the sweater steadily grows, inch by inch. With each stitch, I knit in my thoughts and hopes for the future. As the ball of yarn dwindles, so do my troubled thoughts. The knitting blogger A Friend to Knit With once calculated the number of stitches in a sweater she was knitting: 70,532. If we were to think about that sheer number, we would never knit a sweater. We take it one stitch at a time. Like each stitch, we trudge forward to the next, waiting until the day when we are whole.
As I knit, I can feel the invisible threads connecting me to women of the past who used knitting to cope with the troubling times of their era. Knitting teacher and designer Elizabeth Zimmermann wrote, "Knit on with confidence and hope through all crises." Women knitted through the two World Wars and the Spanish Flu and countless other crises and elections. And they likely will again in the future. Knitting leaves us with a tangible memory of time and helps us cope with our fears and anxieties. It reminds us that life goes on. There will always be a baby who needs warmth. And one day I will finish that gray sweater.
April Choi is a freelance writer in Portland, Oregon. She has written for The Los Angeles Times, The Oregonian and Agence France-Presse (AFP). When not writing, she likes to read and knit, usually at the same time. She shares an affinity for indie yarns with her dog who is a noted yarn snob.