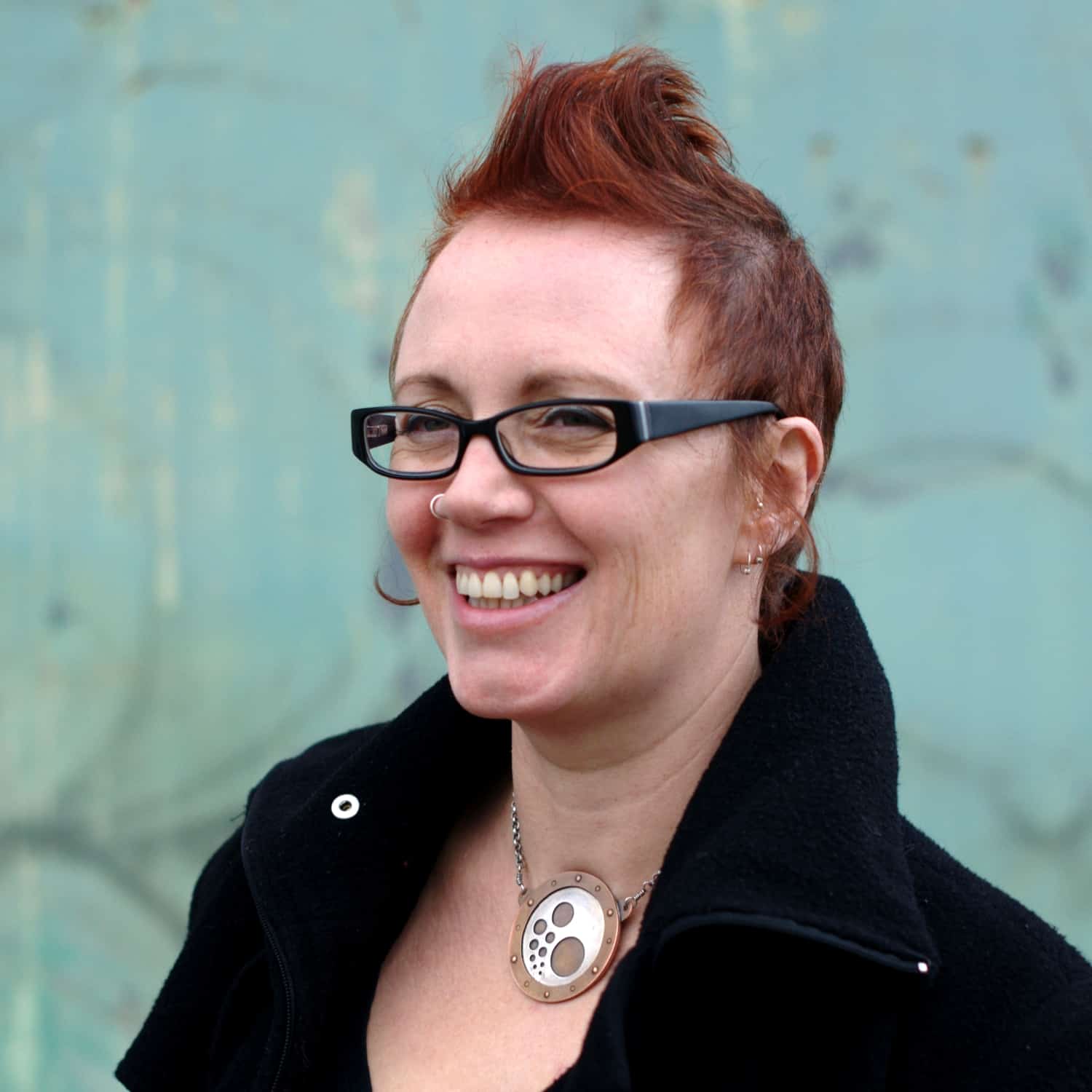 This is the 14th in a series of blog posts featuring the fabulous sponsors of the 2018 Rhinebeck Trunk Show.
I have long been a fan of Woolly Wormhead's designs — her Castiel is one of my favorite FOs — so I was thrilled to hear that she was flying over from the UK to attend Rhinebeck this year.
Woolly, as she calls herself, is a self-proclaimed "hat architect" who takes the knitted head covering to new levels.
I'm also excited to announce that Woolly will be partnering with Stephanie of Asylum Fibers for the 2019 Where We Knit Yarn Club.
How did you decide to become a knitwear designer?
It wasn't something I decided upon, it just kinda happened. When I was medically retired from my teaching job I wanted to keep my brain active so I started blogging and writing down what I was making, and how. And it grew from there.
How has your education in textiles, art and design informed your work?
In my mind what I do now is the perfect marriage of my various paths of study. My very first career was as an Electronics Engineer, focusing on systems, logic gates etc, and for a long time I didn't see the relevance of that to my work! I changed course and studied first Industrial Textiles and then Fine Art Textiles, before finally completing my post grad in Education. All of these play a part in my work but I think my Fine Art Textiles degree was really where my interest in 3D and sculptural textiles matured. Training and practicing as a teacher really cemented my ability to teach effectively, especially as I focused on not only Art and Design during my post grad, but also learning styles and abilities.
Why did you decide to focus on hats?
Again, I can't say this was a conscious decision but it was an obvious one. I come at my knitting from a 3D sculptural angle and Hats are the most 3-dimensional item we can wear. Having a very short attention span is often a hindrance but with Hats we only need to make one, and they're relatively quick, too.
Do you think you'll ever design a different accessory or garment?
Nope! I've no interest in garments beyond the few things I make for myself when I get time. And I've little interest in fashion, with the exception of sub-cultures.
Tell me about what inspires your designs.
Construction, structure and numerical patterns. I'm very much about the 3D but I do like to have a mathematical structure that resonates and I'm often told this is evident in my work.
When and how did you learn to knit?
My mum taught me to knit when I was 3 years old, and I've not had a period of more than a few months without something on the needles since.
What's the first thing you do when you start designing a pattern?
That depends… it depends on how it's going to be structured. I don't sketch my designs, I make notes. I'll swatch if there's a particularly difficult stitch pattern involved or a new to me method that I want to try out, but otherwise I treat my sample as my swatch. Sideways designs are usually charted before I cast-on; vertical designs are written as I knit.
What are your favorite colors and have they changed at all since you started designing?
My favourite colours to wear are completely different to my favourite colours to design with! I wear all blacks unless it's a smooth dark grey. I like an easy wardrobe, when it's all black everything goes with everything. When it comes to knitting it's probably useful to remember that I don't knit for myself! I'm drawn to jewel tones, strong colour and particularly colours that aren't flat. If I know who's going to be modelling the design then skin tone always comes into play. I rarely do pale or subtle colours and I'm allergic to white. Over time I don't think my palette has changed much, but there are a lot more hand dyed yarns available that there used to be, and with more variance and more sophisticated techniques, too.