Kate of McMullin Fiber Co is taking us along on a trip out west and allowing us to pack our bags full of beautiful yarn. Today she debuts her Canyon Collection, a line of 12 coordinating colorways inspired by the beauty of the mountainous West.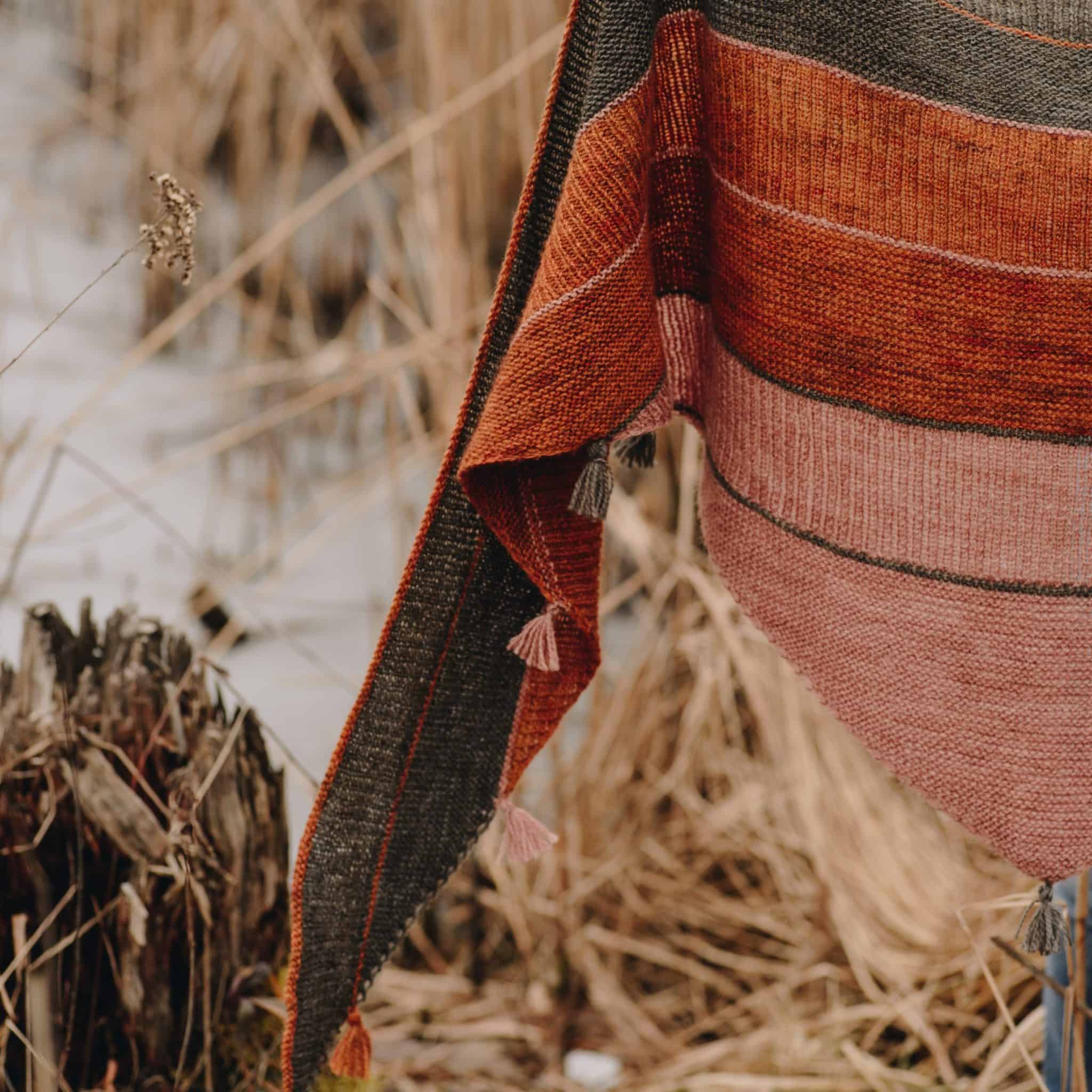 Guilia and Stefania of Lanivendole have teamed up with designer Justyna Lorkowska of Letesknits on the Nappe Shawl. There are kits available in four different color combinations of A Chic Blend and A Heavenly Blend. Act fast — preorders close on Monday, April 12.
Join Mary, Queen of the Knitters, for a Mystery Knit-a-Long quest for the grail! Her Knights Who Say Knit shawl pattern is available for preorders and is discounted through April 15th. The first clue will be released April 19.
Stevie of Curated Yarn Co. runs her luxe hand-dyed yarn company near Brighton on the Sussex Coast of England. Her colorways are designed to evoke nostalgia and joy and she offers yarn, clubs, mini sets, Curated X Creatives Boxes and a range of bases.
Bonnie of Yank Your Yarn has a new set of colorful stitch markers that can attach to magnets, so you can keep your collection organized (and hopefully out of your sofa cushions).
April showers bring… Friendly Flutterby end minders, which help tame your loose ends, and Raindrop Stitch Markers from Michelle of Crafty Flutterby Creations.
Megan of Megs & Co has a few mini skein sets available, including the Hope & A Future set for use with Isabella Tonski of Fiber & Fox's crochet shawl of the same name, and Home is Where the Heart is, an ode to Megan's home city of Rochester, NY.
7th Floor Yarn is now offering their third annual 12 Days of Christmas in July Advent kit. The Hawaiian Christmas-themed kit includes 12 individually-wrapped skeins of DK yarn and notions, plus a knit or crochet pattern.
The Stardust Fiber Studio April subscription box is a collaboration with Mother of Purl. Boxes come with two skeins of Emerald's Andromeda base and an exclusive stitch marker.
Aimee of Panckae and Lulu has opened up preorders for her 2021 Advent calendar and the April Pink Moon skein for her 2021 Full Moon Surprise special yarn series.
If you want to get some quick projects in, Kate of Bad Lux Designs has a new 2ply bulky-weight base, made of 100% fine Superwash wool sourced from Peru.