Courtney of Silly Goose Yarns has opened preorders for her upcoming Halloween box, inspired by the movie Coraline. This spooky stop-motion animated film is based on Neil Gaiman's novella about a girl exploring a parallel world accessed by a door in her apartment. This box will include 13 mini skeins in a fade inspired by the colors of the movie, along with stitch markers and needle stoppers by Vic's Knits, a candle from Calyan Wax Co. (a company that donates to organizations that fight human trafficking) and other surprise goodies. You can choose from three bases, including fingering and DK.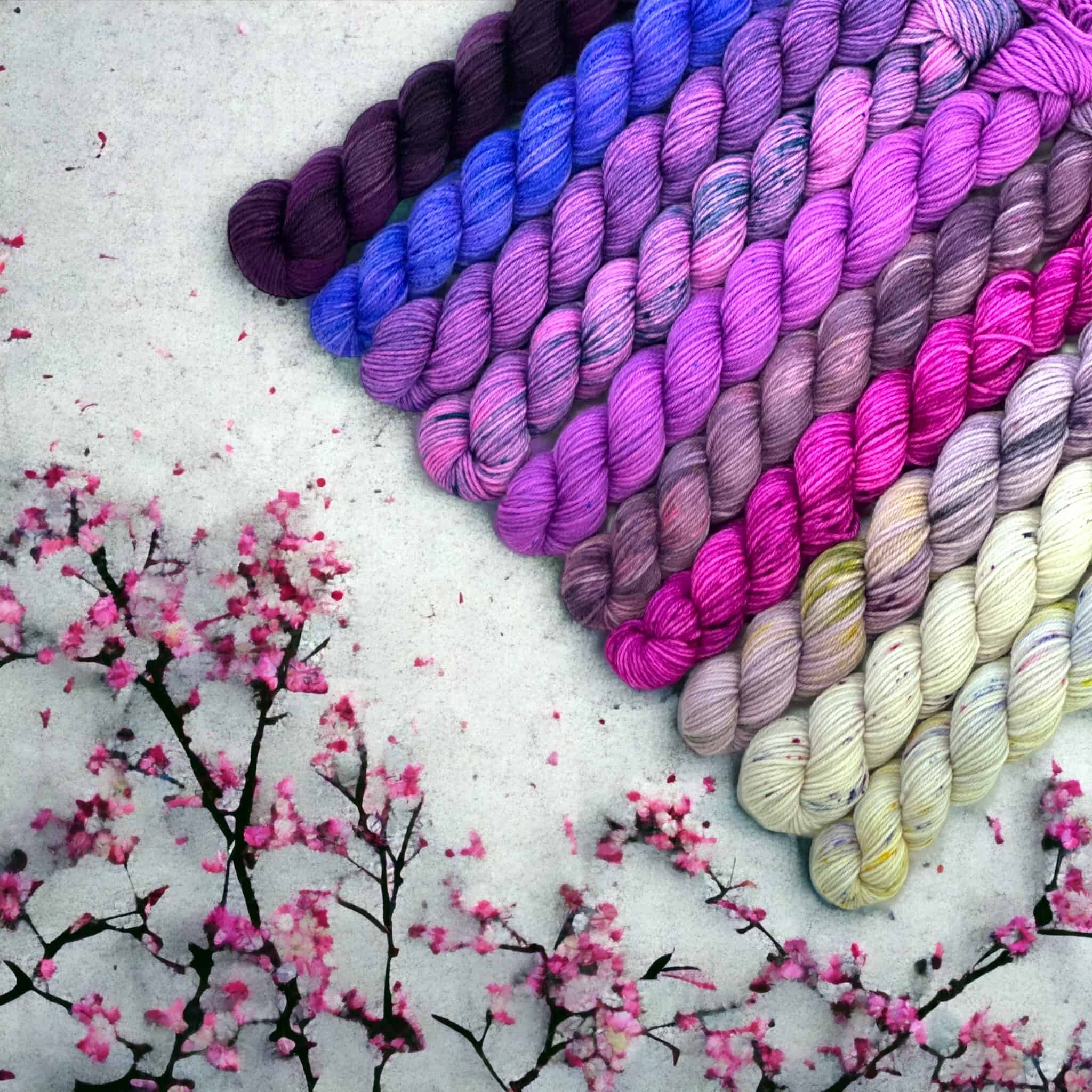 Carolyn and Michelle of Olive & Two Ewe are ready to party with their new Party Pack of purple minis. This set of 10 minis comes in your choice of fingering or DK weight and can be used for a wide array of projects. Quantities are limited.
Michelle of Wool Needle Thread, a longtime knitter and crocheter, will be having an update of one-of-a-kind project bags next Friday, April 28. Materials include Portuguese cork and repurposed home decor fabric samples.
The Southern Skeins sixth annual Advent set is inspired by bright Christmas lights and shiny jewels. The box is available in a standard and deluxe set that includes a project bag.
Dawn of Twice Sheared Sheep offers Increase and Decrease reminder clips for her row counters, which provide a simple way to flag the rows where you need to add or remove stitches.
Ashleigh Wempe is having a spring sale, with 30% all her patterns on Ravelry with the code SPRINGCLEAN through this Sunday.
Liz of Knitting Lizard Fibers is celebrating Halloween with a spooky sock set box based on the Netflix show Wednesday, designed to open each week of October.
Preorders are open for the skein-only installment of Lisa The Knitting Artist's Vincent van Gogh Yarn club. April's installment is based on "Gauguin's Armchair," a painting of van Gogh's roommate's chair.
Nat of FIberdog Fibers has a few different products — two yarns and a mini batt — from one Romeldale/CVM fleece that she washed, picked, carded, dyed and spun herself.
Victoria of Eden Cottage Yarns has a new free pattern for her newsletter subscribers. The Collingham Mitts are a pair of elbow-length mitts that use 60g of yarn. There are also new pattern kits on the site.