The new WoolenWomenFibers collection is called Darling Dahlias and it's made up of vibrant colors with a hint of elegance. Colors include Dahlia Fields Forever, Pink Perception and Bloom Where You Are Planted, and there's the option of adding on colorful flower progress keepers from SamsTinyTrinkets and a Darling Dahlia Sock Sack from Aggie's Bags.
Trudie and Tony of Posh Yarn have been dyeing yarn from the peaceful Welsh countryside since 2006. They recently introduced commissioned colorways, such as the one pictured here, which a customer wanted to look like a stormy sea. If you have an idea for a colorway that you just can't get out of your head, get in touch to make your dream a reality.
David of Crafter Gamer Geek is having a shop update tomorrow with DK-weight yarn inspired by the game Horizon Forbidden West. In addition, all OOAK skeins are 15% off from May 21-27.
The Southern Skeins May Sock Box is perfect for pink lovers and the start of summer. Jenna's boxes feature two colors of hand-dyed yarn as well as a couple of tropical treats.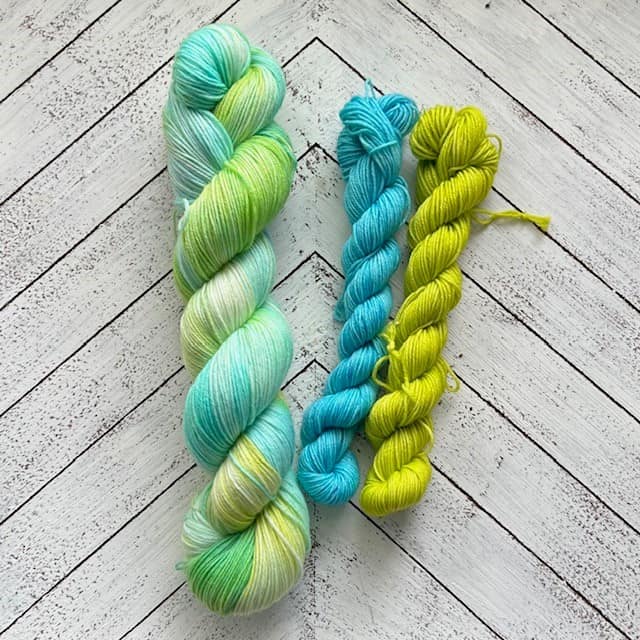 Spots in the June edition of Daisy Stitch Co's That Sock Set Box are open. All subscribers get access to exclusive yarn colors from Shelly in a sock set with a full skein and two minis.
Peel slowly to see Lisa The Knitting Artist's May Andy Warhol Yarn Club colorway, inspired by the cover of The Velvet Underground & Nico, VU's debut album that Warhol produced.
Paola's latest release, Dancing with Galaxies, is a top-down half circle shawl with an intricate and fun mosaic border.