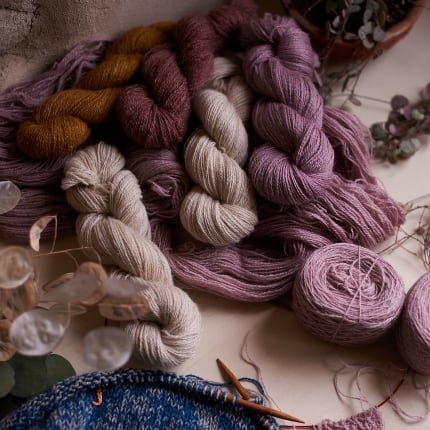 Giulia and Stefania of Lanivendole have launched Aestiva, their new wool and linen yarn. This light fingering-weight yarn is comprised of 70% Abruzzese wool and 30% French linen which, like all their bases, is spun in a mill in Piedmont. It comes in 13 gorgeous hand-dyed hues and the natural color, and with a generous 328 yards per 50g skein.
The WoolenWomenFibers A Woolen Mystery yarn club heads to Key West next month. Boxes include your choice of a sock set or a single skein, a project bag to carry it in, handmade soap or lotion bar, a handmade candle and charms.
Are you heading to the Maryland Sheep & Wool Festival next weekend? Kick off your yarny trip with a visit to Yarncentrick, a new indie pop-up, taking place on Friday, May 6, from 10 a.m.–4 p.m. in Mt Airy, Maryland. This one-day event will feature more than 20 indie dyers, artisans, and small creative businesses in an outdoor setting under covered pavilions.
Crystal's latest design is the Marmalade Shawl, a basic triangular-shaped shawl with a center cable that adds a little flare. It's knit with fingering-weight yarn held double along with mohair/silk and is perfect for using up leftovers.