Andrea and the Woolen Women are celebrating Women's History Month with the Claire's Cabinet box, inspired by Claire Beecham in Outlander and her pioneering of medicine in both the past and the present. Boxes include seven 20g minis and a sheep lotion bar, with options to add on a project bucket bag from Aggie's Bags and herb and alchemical-inspired charms from SamsTinyTrinkets.
Sharon of Garage Dyeworks has put together kits for the Sundae Funday shawl from Chic and Regal Knits. It uses four different colorways of Auto Sock and features sections of simple stockinette and lace with a picot edge.
Keep your stitches smelling sweet and let your inner teenager chuckle with Yank Your Yarn's Li'l Smelly Ball Sack (Bonnie means yarn balls, of course!). These progress keepers feature light bronze filigree "sacks" with a little ball of fluff that can accommodate your favorite essential oil.
Michelle of Crafty Flutterby Creations is celebrating spring with new mini shawl pins and progress keepers featuring flowers, butterflies, songbirds and more.
Shelly of Daisy Stitch Co has kits for the Out-Stranding Shawl pattern by Christie Archer. Kits include one 100g fingering weight skein, one 50g fingering weigh skein and three 20g minis in your choice of three color palettes.
Dyer Courtney launched Silly Goose Yarns just this week! She has a new Spring Collection featuring bright colors on a variety of bases from mohair to bulky, as well as a collection of limited OOAK colorways.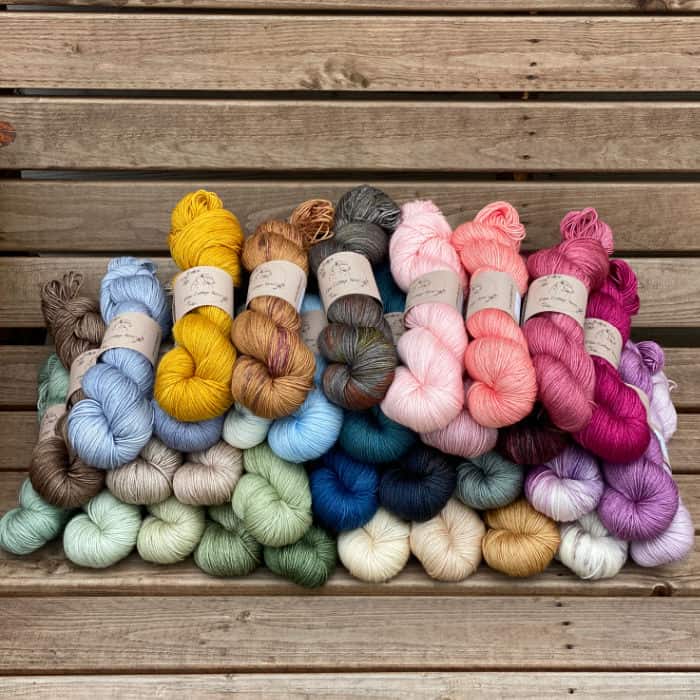 Victoria of Eden Cottage Yarns just had an update of her popular Titus 4ply, a blend of extrafine Superwash Merino and mulberry silk. While some of the most popular colorways sold out quickly there are preorders available so you don't miss out.