Scarlet of Huckleberry Knits is helping us with the transition to fall through her stunning Knitting Our National Parks colorway. It's called Going to the Sun after its inspiration photo of Lake McDonald, along Going-to-the-Sun Road in Glacier National Park, taken by Colorado-based photographer Mallory Wilson. This colorway will be dyed on Scarlet's Willow sock base, 80% Superwash Blue-Faced Leicester and 20% nylon, with 420 yards per skein, and available to preorder on Indie Untangled through Sunday, October 18. 
Sara of La Cave à Laine is introducing Happy Knitting Boxes: four different boxes with a selection of handcrafted fiber accessories made in France or Europe, including hand-dyed or hand-printed project bags, stitch markers, wool soap and knitting patterns.
Sarah of Superfine Yarn has been playing around with one-of-a-kind dye batches. If you fall in love with any of her experiments, be sure to use code FALL10 to get 10% off and free shipping.
Victoria of Eden Cottage Yarns had a shop update yesterday with Keld Fingering, a new-to-ECY blend of Superwash extrafine Merino with linen.
Marny's Reversible Trellis Cowl is just what it sounds like, a fun accessory that can be made in any two colorways.
Kristen of KS Fiber Arts has a limited number of skeins of these colorways inspired by Jack Skellington and Ragdoll Sally of The Nightmare Before Christmas.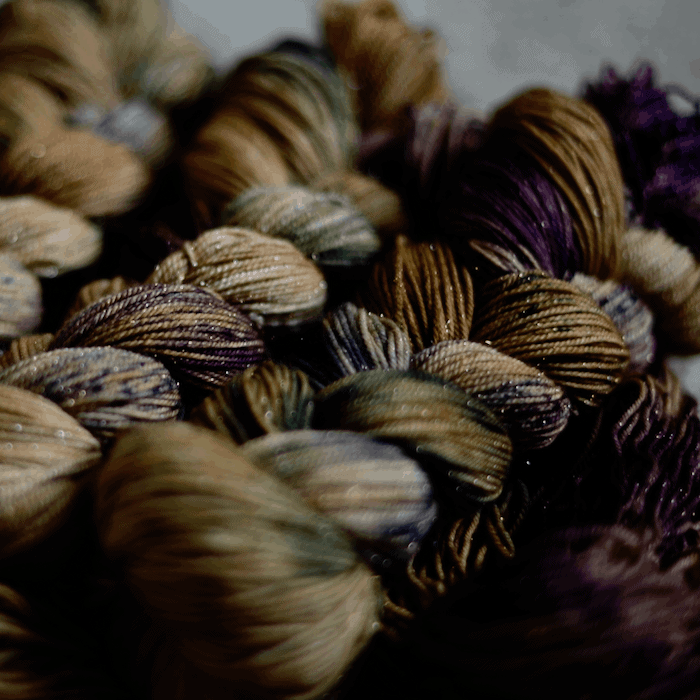 Annie Dot Creative's Fantastic Socks yarn club is inspired by Newt Scamander and his magical creatures. There's still time to join in the fun.
Who says un-dyed yarn has to be boring? Monica of Gothfarm Yarn has four color palette ideas to make striking knits.