Designer Mona of bunnymuff will capture the beauty of Big Sur in her upcoming MKAL. The top-down, triangle-shaped shawl, called Blooming Big Sur, is inspired by the amazing wildflower bloom at Big Sur. You can preorder the colorful kit from Elevate Fibers (where the sale of every skein supports a national forest!) receive a code for $2 off the purchase of the pattern. The four clues will be released weekly starting May 1 and there will be two threads in the bunnymuff Ravelry group — one for shawl-related chat and one for spoilers. 
Sara of La Cave a Laine's new bag collection is filled with spring colors and patterns, including florals, leaves and koi carps — inspired by a delicacy of the southern Alsace, where Sara hand crafts all her bags.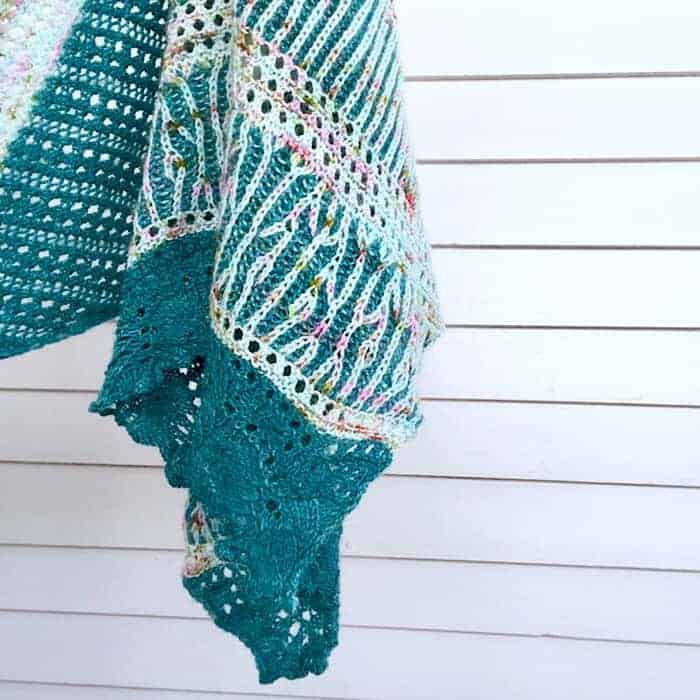 This is your grandmother's knitting, in the best possible way. Dottie Jane is a new collaboration from Heather of Sew Happy Jane and brioche master Lesley Ann Robinson of Knitgraffiti. The shawl is named for the colorway, Hattie Jane, which Heather named after her grandmother, and for Lesley's late grandmother Dottie.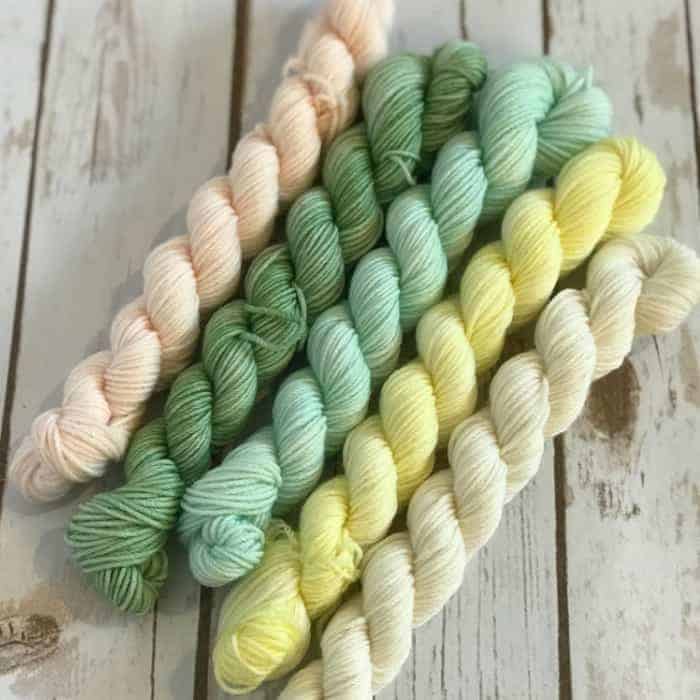 The Big Foot Fibers' Mini Set Of the Month is called Easter Lily. The five-skein set on 85/15 extra fine Merino and nylon are available to preorder now.
This HBO epic might be coming to an end, but Marietta of Inner Yarn Zen is making her first Game Of Thrones kit available to mark the end of the series.
Selena of Sweater Sisters has nine colors in a cheerful spring palette up in her shop, available on four different fingering-weight bases.
Slipped Stitch Studios will have Pretty Sweary bags from artist Cynthia Frenette in the shop today at 9 a.m. Pacific.
Jeanne's colorway for the latest installment of Knitting Our National Parks is inspired by Cuyahoga Valley National Park, a hop, skip and a jump to her Cleveland studio. It's available to preorder until next Friday, April 19. As always, 10% of sales will be donated to the National Parks Foundation.
McMullin Fiber Co.'s April club is a surprise skein of spring speckles inspired by Alice's Adventures in Wonderland, plus a progress keeper from Amanda of Little Bitty Delights.
Eden Cottage Yarns is introducing two new yarns: a baby alpaca and silk Aran weight called Askham Aran, and Hayton DK, a DK-weight MCN. Both will be available in an update at 8 a.m. UK time on Monday.
Amy of Summit Rd Fibers also has new spring colorways, including Rusty Grape, Peachy Keen, Jelly Bean, Crisp Lemonade, Bella The Budgie, Sea Glass, Punk Princess and Melted Crayons, named via an Instagram giveaway.
Celebrate Easter with Purple Lamb's Eight Days of Easter yarn kits, which consist of eight 10-gram minis (50/50 Merino/silk, not eggs) in pastel colorways.
Heather of Heather's Yarn Barn has teamed up with the shopping site Zulily.com, and 10 of her colorways will be available at a deep discount from April 14 to 17.